---
South Korea's 1st Female President Impeached

On This Site
Share This Page

---
Follow This Site



December 9, 2016
The South Korean parliament has voted to impeach the country's President, Park Geun-hye.
Park, the country's first female leader, stands accused of joining two former aides and a personal friend to put pressure on businesses to make donations to foundations that support what she wants the country to do. Park has apologized for being associated with her friend Choi Soon-sil, who has been indicted on charges of influence peddling, both in governmental matters and in helping her daughter gain admission to a university.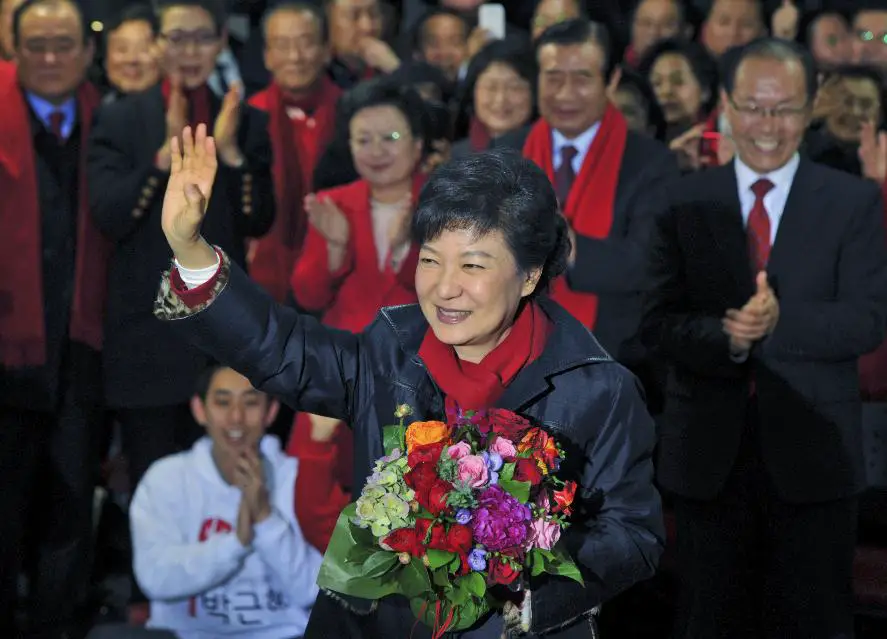 Park (right, shown in happier times) is the leader of the Saenuri Party (formerly the Grand National Party), which has 128 seats in the National Assembly. The rest of the 300-member Assembly is made up of opposition and independent members.
A two-thirds majority was needed for impeachment. A total of 172 members of the Assembly's opposition and independent members signed the motion to impeach Park. They still needed at least 28 of Park's 128 Saenuri Party members to vote for impeachment. They got that and more, as the final number of votes for impeachment was 234, with 56 voting no and the rest not voting.
Park had offered to resign on November 29; the opposition refused, preferring to proceed with pursuing impeachment.
The final decision is now with the Constitutional Court, which has nine justices. A vote by six of those nine justices is needed for an impeachment to be upheld.
Prime Minister Hwang Kyo-ahn will serve as Acting President for a maximum of 180 days pending review by the Constitutional Court. If the decision is to remove Park from power, then the country will have to have a presidential election within 60 days.
In 2004 then-President Roh Moo-hyun faced a similar fate. Parliament impeached Roh, and he had no presidential powers; Prime Minister Goh Kun was Acting President for 63 days while the Constitutional Court performed its review. That time, the Constitutional Court overturned the impeachment.
Support for the the 64-year-old Park is an all-time low of 4 percent. Large public rallies calling for her removal have occurred recently. One protest had more than 1 million people. A recent national poll found that 78 percent of people surveyed favored the impeachment of Park. The impeachment of Roh was largely opposed by the public.
Park was elected in 2012. South Korea's presidential term is five years, and the President is limited to one term.
Article 71 of the South Korean Constitution has this to say:
If the Office of President is vacant or the President is unable to discharge the powers and duties for any reason, the Prime Minister or the members of the State Council in the order of priority as determined by Act shall act for him/her.
The Constitution also stipulates that anyone who is impeached is not immune from prosecution, civil or criminal.