---
Solar-powered Plane Crosses Pacific Safely, Lands in S.F.

On This Site
Share This Page

---
Follow This Site



April 23, 2016
The solar-powered dream continues for Bertrand Piccard and Andrew Borschberg.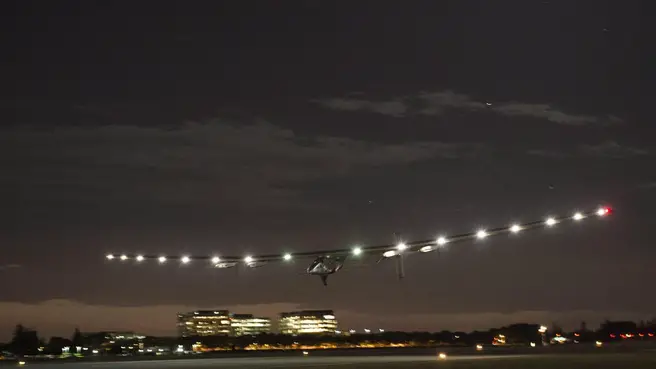 Their latest airplane, Solar Impulse 2, powered into mainland American airspace and landed in Mountain View, Calif., after a 62-hour nonstop flight (without fueling, of course) from Hawaii.
It was the ninth leg of the crew's planned round-the-world non-fueling journey. The first leg was in March 2015 from Abu Dhabi. Legs 2 through 8 followed in relatively quick succession, but the completion of the latest leg was well behind the original schedule because some of the plane's 17,000 batteries overheated and the crew spent many weeks repairing the batteries and the rest of the plane, while also raising more money and awareness of their attempt.
The crew considered the flight from Hawaii to California, over the vast Pacific Ocean, to be the riskiest leg because of the lack of emergency landing sites. But, with Piccard at the controls, the crew needed no such backup landing site.
The project began with a 24-hour test run in 2010.