Smithsonian Unveils 3D Scanning Online
---
November 13, 2013
The Smithsonian is getting into 3D in a big way, with the launch of a program to create three-dimensional models of a large number of items in the institution's collection.
The plan is eventually to offer 3D printing capabilities onsite for visitors. For the moment, though, those accessing the 3D renderings will be viewers, of the online digital display tool.
The Smithsonian's director of digitization said that anyone who already had a 3D printer could create real-life versions of the digital images, although the intention was to create an online resource for educational, not commercial, purposes.
Among the first group of items scanned were the flight suit of Amelia Earhart and two casts of Abraham Lincoln's face, taken a few years apart. Using the online tool, viewers can see how Lincoln's face changed during the course of the war.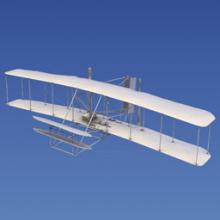 Another prominent example of the improved user experience of a 3D model is the Wright Brothers' first airplane, which users can rotate 360 degrees, as well as zoom in on the engine and wings to better understand the unique design of the plane.
The Smithsonian is dedicating a sizable amount of time and effort to the digital scanning for the next few years but has not set a timetable for finishing or a limit to how much will be ultimately be scanned.
Digital scanning of physical collection items is happening at other famous institutions as well, notably New York's Metropolitan Museum of Art.