---
'Sky Pool' to Tower over London Apartments

On This Site
Share This Page

---
Follow This Site



August 21, 2015
A 75-foot-long pool will soon join two London apartment buildings, 10 storeys up.
It has been nicknamed the "Sky Pool," and it is the brainchild of Irish developer Ballymore, who own, among other things, a pair of buildings in the Nine Elms area of London. The bottom of the pool will be sheets of glass that are 8 inches thick. And because those sheets are glass, swimmers will be able to look down and see people, animals, cars, and other signs of life below them. The reverse, of course, is also true.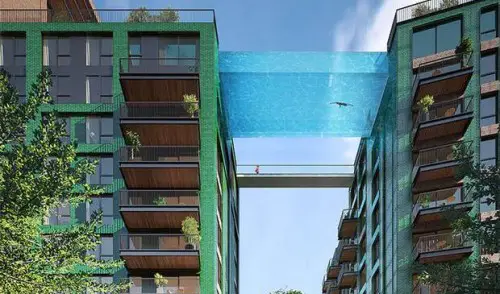 The pool will be about 16 feet wide and about 10 feet deep. The developer is employing designers who have built aquariums.
Swimmers reach the pool by going up and using their exclusive access to a special "wellness" floor. A separate walkway will allow residents to travel between buildings without having to swim for it.
Other niceties planned for what is to be called the Embassy Gardens (because the buildings are in the same neighborhood as the U.S. Embassy) include a spa, a rooftop bar, and an orangery (a sort of greenhouse used to grow and protect orange and other citrus trees).
Some parts of the 2,000-home development are planned to open in 2017. All construction is projected to be completed in 2020. Some apartments already have prospective tenants, who have paid as little as 666,000 pounds ($1 million) for a one-bedroom flat and as much as 5.5 million pounds ($8.6 million) for a penthouse.
This is not the only pool to exist at a great height. Developers insist, however, that it will be the first all-glass pool to be at such a height, with nothing underneath.