German Sinkhole Continues Recent Trend
---
November 1, 2010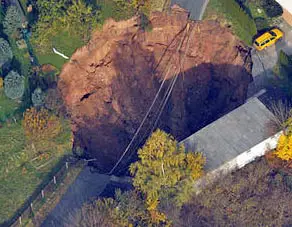 Another large sinkhole has opened up, this tine swallowing a parked car and a garage door but claiming no lives.

The sinkhole, which measures 65 feet deep and 98 feet across, appeared in the middle of the night in a residential neighborhood in the German city of Schmalkalden, in the former East Germany. A total of 25 people were evacuated as a precaution.

German officials issued no findings on what caused the sinkhole, although typical causes include the collapse of limestone or other sedimentary rocks that dissolve if they are inundated with enough water over a long enough period of time.



Such was the case with other sinkholes earlier this year, most notably in Guatemala City, where in May a massive sinkhole opened up, descending 100 feet into the ground and measuring 65 feet across. A security guard died in the sudden collapse, which also claimed a three-story house and a few electricity poles. That sinkhole opened up in a tightly packed neighborhood, and hundreds of people were in danger there. It was in Guatemala City in 2007 that another 100-feet-deep sinkhole opened up, forcing the evacuation of 1,000 people.
Sinkholes are not all that surprising in Guatemala City, the city's officials insist, since they see more than a few of them every year. Most, however, do not descend 100 feet into the ground and cause instant death.
Another city whose residents are not usually fazed by sinkholes is Tampa, which nonetheless had its latest sinkhole measure in at 100 feet deep and 66 feet across. Tampa residents took that large earth-opening in stride, mainly because it didn't cause a whole lot of damage. Still, the potential for disaster is there, especially in limestone-rich areas like Tampa in which large amounts of water (piped or unpiped) runs underground.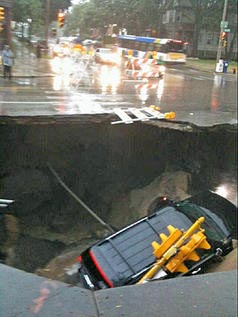 On a much smaller scale, a sinkhole in Milwaukee nonetheless caused a bit of wreckage. The 20-feet-deep sinkhole opened up at an intersection and claimed a stoplight, a car, and the car's driver. The person was rescued, as was the car once it had run out of gasoline and shut itself off. The Milwaukee sinkhole was the result of a collapse of a manhole in the wake of a massive flash rainstorm.

Social Studies
for Kids
copyright 2002-2014,
David White
---