Space Shuttle Endeavour Crawls to Final Destination
---
October 15, 2012
Space shuttle Endeavour has reached its final resting place, after more than a hundred million miles in space and several hundred on the ground, with the last being a slow trek through the streets of Los Angeles.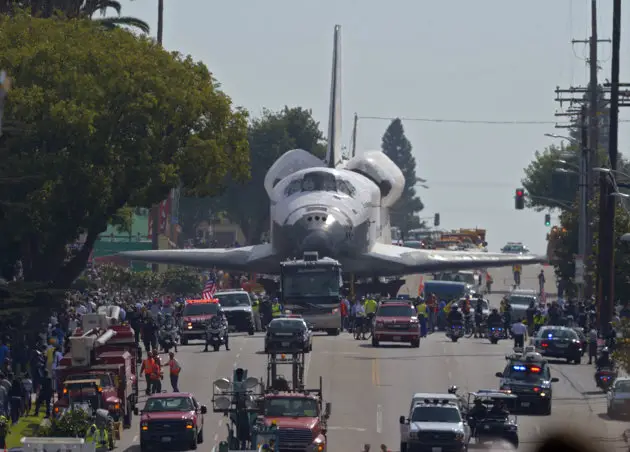 Now that the space shuttle program has ended, NASA has found homes for the various orbiters, with the California Science Museum being the final destination for Endeavour. The shuttle made the trek from Los Angeles International Airport to the science museum on the back of a large 160-wheel vehicle, sporting signs that read "Shuttle XING." The route wound through some of the city's poorest neighborhoods.
The idea was to give the crowds one last sighting of Endeavour. Crowds were large and enthusiastic along several stretches of the 12-mile route. City officials had earlier cut down about 400 trees so that the wide-bodied shuttle could pass safely through. Such was not the case with all trees, however. Officials were prohibited from felling some trees because they had historical significance, so the shuttle procession had to stop occasionally in order to raise or lower the wings slightly in order to proceed.
The road procession was chosen because freeway underpasses were too low. Also, as was the case with other orbiters, the shuttle could not have been disassembled without damaging the protective heat tiles.
Endeavour has several ties to California. The engines were built in the San Fernando Valley, Silicon Valley engineers invented the heat tiles, and the finished shuttle reached its final form in the Mojave Desert.
Enterprise, the first orbiter, made a similar trip in New York. Discovery is part of an exhibit at the Smithsonian Air and Space Museum, and Atlantis is on permanent display at the Kennedy Space Center in Florida.