---
High Court Justice Scalia Dead at 79

On This Site
Share This Page

---
Follow This Site



February 14, 2016
Supreme Court Justice Antonin Scalia has died. He was 79.
Scalia was found dead at a resort in West Texas. He was on a hunting trip. A report said that he died of a heart attack.
Scalia, nominated by President Ronald Reagan in 1986 and confirmed 98-0 by the Senate, was all of 50 when he joined the Court. He was the longest-serving member of the current Court, serving for 29 years.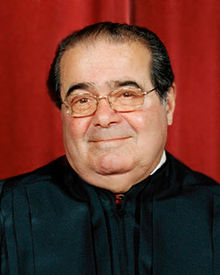 A stalwart conservative, Scalia made a name for himself with pointedly written dissents in his early years on the Court and then, when a Conservative majority was a reality on the Court, as a powerful ally of Conservative interests, particularly in regard to the Second Amendment and in the area of social issues. In the end, he was known most for his belief that the Constitution should be interpreted the way that the Founders intended it, not the way that people today thought it should be interpreted. A common term for this belief is "original intent."
The only child of Italian parents, Scalia was born in Trenton, N.J., in 1936. By contrast, he and his wife, Maureen, had nine children.
A top student, he was first in his class at New York's Xavier High School, Georgetown University, and Harvard Law School. He was a lawyer in Cleveland and then a teaching professor at the University of Virginia. He had three jobs in the Federal Government, all for the Executive Branch, and then was a teaching professor at the University of Chicago.
In 1982, Scalia joined the U.S. Court of Appeals for the District of Columbia, one of the country's most prominent District Courts and one that is widely viewed as being a steppingstone to the Supreme Court. He served on the D.C. District Court for four years and then, in 1986, joined the High Court.
Scalia, who had a very Conservative judicial philosophy, nonetheless found a friend outside High Court matters in Justice Ruth Bader Ginsburg, whose judicial philosophy is more on the liberal side. The two enjoyed opera immensely and also enjoyed attending operas together, promising never to discuss their work while doing so. This nonpartisan entertainment viewing became so popular that it formed the basis for an opera itself, a one-act comedy titled Scalia/Ginsburg. The work had its unofficial premiere, naturally, before the Supreme Court, in June 2013.