Russian Military Switches to Socks, Permanently
---
January 16, 2013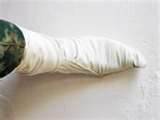 The Russian Military will soon require its members to wear socks, something they don't all do at the moment.
For hundreds of years, Russian soldiers have worn on their feet a foot-wide swatch of cloth called a portyanki. Cotton is worn in the summer, and flannel is worn in the winter. If bound correctly, the portyanki absorbs sweat and provides adequate protection against frostbite, trench foot, and other common foot ailments suffered by soldiers wearing military boots for long periods of time in all manner of weather.
Russian Minister of Defense Sergie Shoigu has mandated the change, saying that the country's military needed to update its clothing as well as its equipment. Portyankis have been the norm since the days of Peter the Great, in the 17th Century. The practice continued in Russia long after soldiers in other countries were wearing socks in part to spare Russian factory workers from having to knit huge numbers of socks. Russian soldiers also proved able to reuse strips of cloth that would otherwise have been abandoned in camp.
Similar foot coverings called puttees were worn by soldiers in the U.S., Canada, and Britain before and during World War I.
The switch to socks is part of an overhaul of the Russian Military that began in 2007. Many soldiers already wear socks. Shoigu's target for abandonment of the portyanki is January 1, 2014.
Custom Search

Social Studies
for Kids
copyright 2002-2014,
David White
---