---
Rosa Parks Archive in Library of Congress Online

On This Site
Share This Page

---
Follow This Site



March 6, 2016
Rosa Parks' world is now online.
The Library of Congress has unveiled an online archive of a large collection of words and pictures from the life of Parks, the seamstress who famously refused to give up her seat on a Montgomery, Ala., bus in 1955.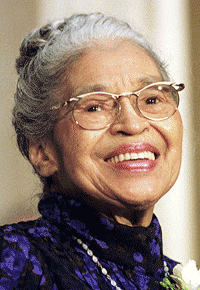 Parks was born and grew up in Alabama, and it was there in 1955 that she decided knowingly to break a law that said nonwhite people had to give up their bus seats to white people. Her subsequent arrest led to a boycott of the Montgomery city bus system, and the involvement of Martin Luther King, Jr., and other prominent civil rights activists led to an increased nationwide focus on the laws and practices that encouraged segregation.
Parks lost her job, as did her husband, as a result of the bus boycott, and the couple moved to Virginia and then to Michigan, settling in Detroit. Parks joined the staff of Michigan congressman John Conyers, Jr. She was politically active the rest of her life and participated in several high-profile protests. She was awarded the Presidential Medal of Freedom and the Congressional Gold Medal. She died in 2005 and was the first woman ever to lie in state at the U.S. Capitol.
The collection has more than 2,400 images and nearly 500 manuscripts, from throughout her life. Included are photos of family and friends, birthday and thank-you cards, tax returns, and other miscellany, including a recipe for peanut butter pancakes.
A legal dispute over ownership of the archive resulted in the archive's contents' remaining in storage for nearly a decade after Parks' death. A wealthy businessman bought the archive in 2014 and donated it to the Library of Congress.