---
Restored Roman Pyramid Open to Public Again

On This Site
Share This Page

---
Follow This Site



February 9, 2016
Rome's only surviving pyramid is drawing new visitors, after a million-dollar-makeover.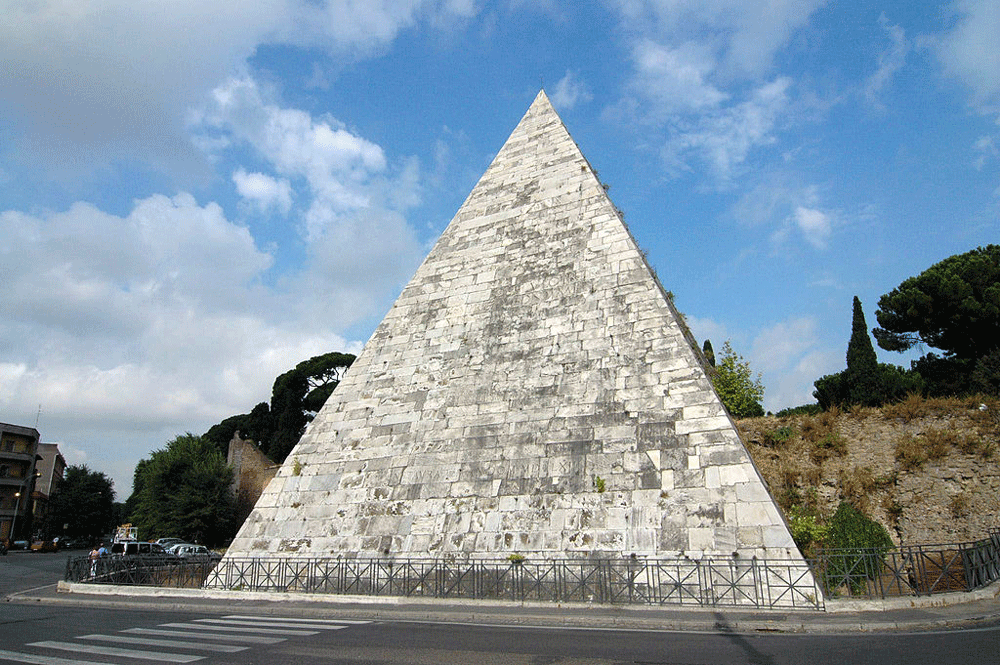 The Pyramid of Cestius was constructed as the burial site for a wealthy politican, Caius Cestius, between 18 B.C. and 12 B.C. The result was a white marble pyramid that rose 119 feet at a more extreme angle than those in Egypt, perhaps more in line with those in Nubia (what is now Sudan).
Rome conquered Egypt in 30 B.C. After that, many Egyptian-style buildings appeared in Rome and elsewhere in Roman-controlled territory. In Rome, however, workers built only two pyramids.
Cestius's final resting place became part of a system of walls. The result of a decree by Aurelian, the Roman Emperor at the time, this instruction likely played a part in the survival of the Pyramid of Cestius. The only other pyramid built in Rome, near the Castel Sant'Angelo, didn't survive the needs of later builders; in particular, the marble of that pyramid hellped shape the St. Peter's Basilica stairs.
Archaeologists rediscovered the inscription identifying the pyramid as Cestius's tomb in the 17th Century. An initial restoration took place not long after that. A second restoration occurred in 1999.
The latest restoration began in 2011 after a grant from a Japanese millionaire, Yuzo Yagi. As a result, tourists can now tour make reservations to tour the newly restored tomb, complete with freshly cleaned frescoes that dot the walls along the way to the burial chamber. The urn that contained Cestius's remains has long since disappeared.
The pyramid's foundations are now below the surface level of the existing street. In modern Rome, the pyramid is near a major subway stop, the Piramide station.