Pumpkin Farmer Scares Up Monster Product
---
October 5, 2014
Call it "Pumpkinstein."
With the aim of saving some people time but not necessarily money, a California farmer has turned his artistic tendencies to growing pumpkins that already look like scary monsters. The monster in this case is Mary Shelley's famous monster that was the brainchild of Dr. Frankinstein. (That was the name of the doctor, not the monster.)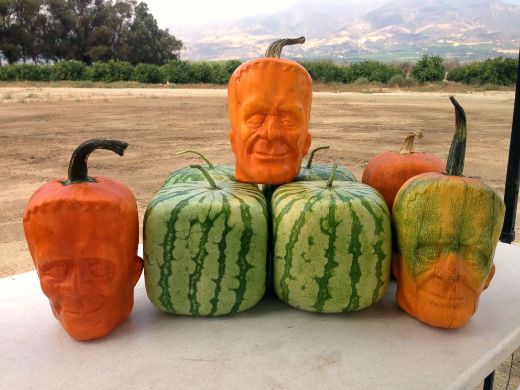 The new product is not a rampaging humanoid, though. This mellower holiday-themed creation is the brainchild of Tony Dighera.
Dighera, who lives in Fillmore, Calif., spent quite a bit of time and money (he estimated at least $350,000) to get the right look and feel for his product. Dighera said that he used 27 different varieties of seeds before he got a winner, one that would hold the shape of the plastic mold throughout the growing period of the pumpkin.
The result is a first crop of 5,000 "Pumpkinsteins," nearly all of which have been bought already, at prices ranging from $75 to $125.
Carving faces and designs into pumpkins in anticipation of Halloween is quite the family tradition. Families have been looking to maintain this tradition in increasingly time-pressed environments. The Halloween industry has come to the party before, with various other methods, including tracing designs. Those, however, are designed to be implemented after the pumpkin is grown.
Dighera is already busy growing more scary-faced pumpkins. His next endeavor looks ahead to another well-known holiday, Valentine's Day, for which he is experimenting with heart-shaped watermelons.
Custom Search
Social Studies
for Kids
copyright 2002-2014,
David White
---