NYC Art Exhibit Features Public Pianos
---
Juen 23, 2010
The songs in the keys of life are coming from people of varying talents.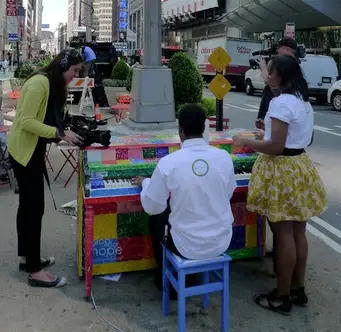 All over New York City are pianos, set up in very public places and intended for public use, that are part of an art exhibit by British artist Luke Jerram titled "Play Me, I'm Yours." The exhibit, like a similar one in Britain a few years back, features 60 pianos placed in various parts around the five boroughs of New York. Anyone can play the pianos, for any length of time. (Generally, the ones who know how to play are playing longer, although some playful children and curious adults wandering by have had a go.)

Observers have reported witnessing some quite magnificent renditions of ragtime favorites by Scott Joplin. Other people remember having heard quite a stirring performance of Beethoven's "Fur Elise." Still others have heard everything from Bach to Elton John.

The pianos are locked, of course. At 9 a.m. each day for the next two weeks, someone will come by and unlock the piano, leaving the keys and pedals open to the public for 13 hours. The pianos, donated by Sing for Hope, number 60 and will be donated to charities after the project has run its course.


Jerram has presented similar exhibits in other cities around the world, including London, Sydney, and Sao Paulo. The New York exhibit is the largest and accompanies a smaller exhibit now running in London.

People who play the pianos and/or observe others playing the pianos are asked to submit their photos and written words to a public website, so the whole thing can be published as a cooperative story.

For more information, click here.

Social Studies
for Kids
copyright 2002-2014,
David White
---