Postal Service to Deliver on Sunday
---
November 9, 2014
Seeking to make up for lost time and money, the U.S. Postal Service will add Sunday delivery to its offerings from November 17 to the end of Christmas Day. The advent of seven-day delivery will take place in major cities and high-volume areas, the Postal Service said.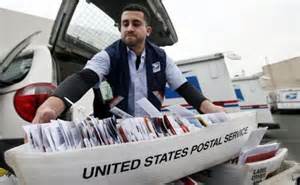 The USPS reported a $2 billion loss in spring 2014 despite an increase in the price of stamps and in the number of packages shipped. The agency routinely faces budgetary woes because of a combination of congressional oversight and no federal money for day-to-day operations.
Projections for growth in the package business, mainly because of a steady increase in online shopping, are 12 percent, the agency said.
Custom Search
Social Studies
for Kids
copyright 2002-2014,
David White
---