Post-it Notes Have Stuck Around for 30 Years
---
April 26, 2010
Before the 1980s, Post-it Notes didn't exist. Now, they're everywhere.



The little yellow square of paper that could was the product of the imagination and determination of a pair of scientists, Arthur Fry and Spencer Silver, working at 3M. As with many famous inventions, the Post-it Note was an accident.

Fry and Silver didn't start as a tag team. In fact, one man's failure fed the other man's need.

Silver came up with the formula for the weak adhesive that is the backbone of the Post-it Note way back in 1968. But at the time, the glue didn't hold anything well enough, so Silver put the formula aside. However, a few years later, Fry heard about Silver's glue as part of a 3M work exchange program. Fry made the connection when he identified for the need of a paper marker to keep his place in his hymnal, while singing in the church choir. Fry and Silver got together and created a prototype, which became the world's first Post-it Note. It was canary yellow. The year was 1980.



The original Post-it Notes were 3-inch by 3-inch squares, in the familiar yellow. Soon after, demand for other sizes created a number of options. Today, the smallest size is .5 inch by 1.75 inch "ribbons," and the largest is an easel pad that measure 25 inches by 30.5 inches. 3M also makes Post-it Note-themed tabs, flags, and even pens.

Post-it Notes now come in 25 shapes and a full 62 colors. More than 150 countries sell them. Office workers around the world can't imagine what they did without the little sticky notes (which are a big hit in homes as well).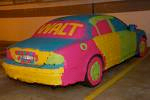 It's not just paper, either. Post-it Notes have become so familiar that they are the basis for public artworks, computer programs, and even pop songs.

In keeping with the times, 3M is introducing an environmentally friendly version, called the Post-it Greener Note. This version will be made from totally recycled paper, with the adhesive made from plant-based materials.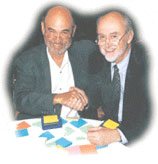 Fry and Silver have been extensively recognized for their work, including being recently inducted into the National Inventors Hall of Fame.

Social Studies
for Kids
copyright 2002-2014,
David White
---