Parents Forced to Pay for School Event Photographs
---
December 18, 2006
School play pictures have never been more expensive.
It used to be that the most parents would have to pay for pictures or videos of their children performing in school plays or concerts would be the development costs of the film. The onset of digital cameras and hard-drive driven camcorders had all but eliminated those costs.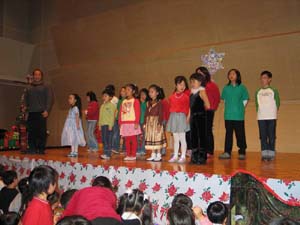 However, parents of at least three schools in the United Kingdom are having to once again pay for pictures of their performing children, and the price is a hefty one. The three private schools are Wakefield Girl's High Junior School, Cliff School, and St. Hilda's.
Those schools have banned parents from taking pictures or making videos during student performances. The schools say that they are trying to protect the privacy of the students. What they are, in reality, doing is hiring professional photographers and filmographers to take pictures and make video recordings and then selling those pictures and videos for a hefty price.
One picture of the performance costs parents 5 pounds ($9.76). One video of a recording costs 17 pounds ($33.19). Parents, naturally, are up in arms.
---