---
Kansan Flips Pancake Race Title Back to U.S.

On This Site
Share This Page

---
Follow This Site



February 17, 2015
A Kansas woman won both the Liberal Pancake Race and beat her United Kingdom counterpart.
Hannah Belton (left), a 24-year-old elementary school teacher and cross-country coach in Liberal, finished the 415-yard race in 69 seconds, a clear winner ahead of second-place Tessy Barnett and third-place Monica Vega.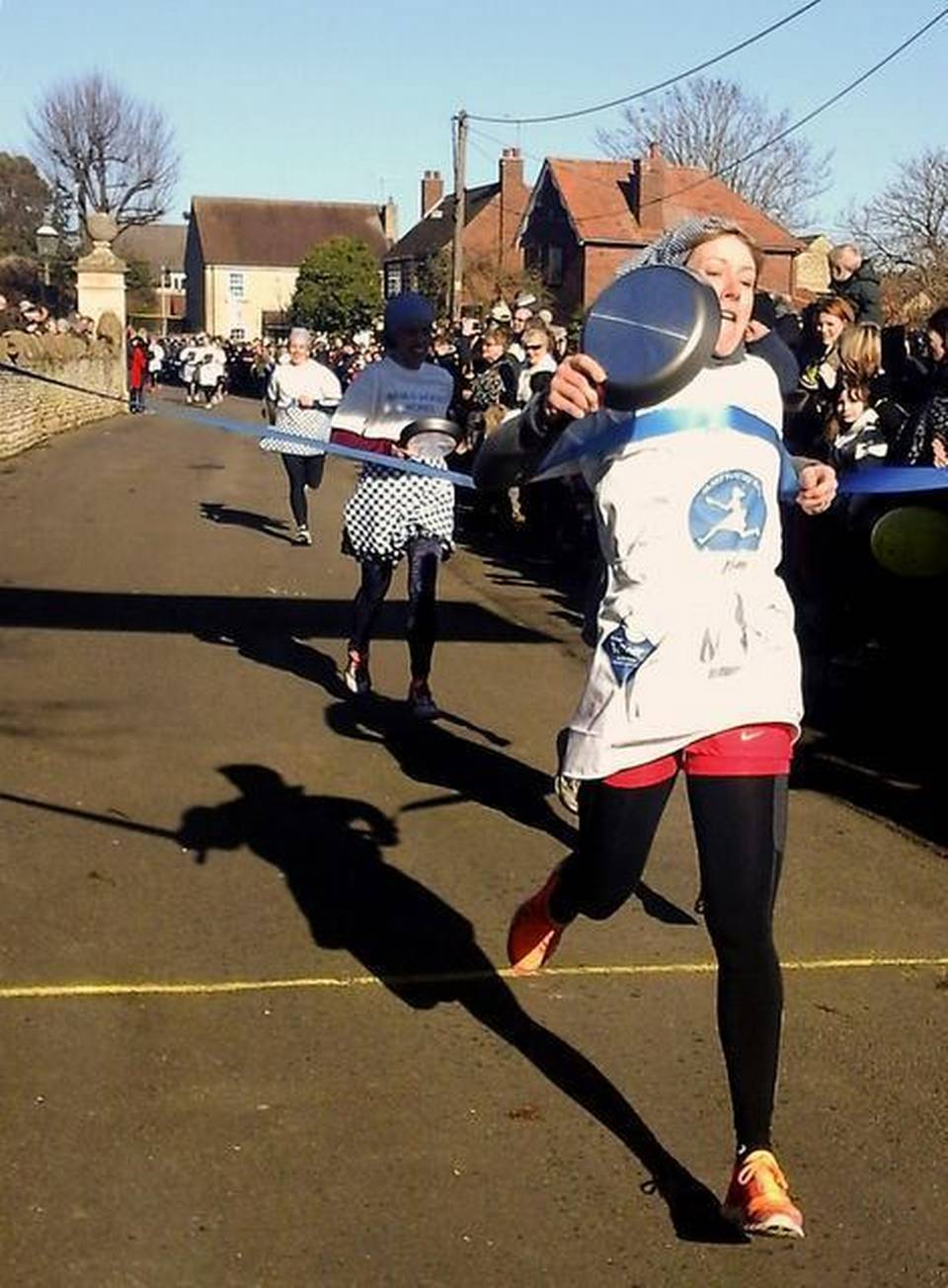 Emma Maitland (right) came home first in the Olney (U.K.) race, finishing in 75 seconds. Maitland, last year's second-place finisher, came home ahead of Anna Hughes, in second place, and Kathryn Eames, in third.
Belton, who placed fourth in Liberal the year before, reclaimed the international title for Liberal, after Olney had won it three years running. It was the 66th time that the two towns had compared times and declared an overall winner. Liberal has now won 37 times, and Olney has now won 28 times. (One race's results were thrown out when the Olney race could not be completed because a BBC truck was blocking the finish line.)
The woman who was responsible for Olney's three-year winning streak ran in the Liberal race in 2015. Devon Byrne bested the Olney field in 2012–2014, and, according to International Pancake Day Race rules, was ineligible for future races. So she traveled to Liberal and ran that race in an honorary role. She even brought her mother, Lesley, herself a three-time Olney winner. Lesley won in 1999, 1989, and 1993. It was on that day in 1993 that she learned that she was pregnant with her daughter Devon.
Devon Byrne still holds the overall international record, with a time of 55.6 seconds, which she set in 2014.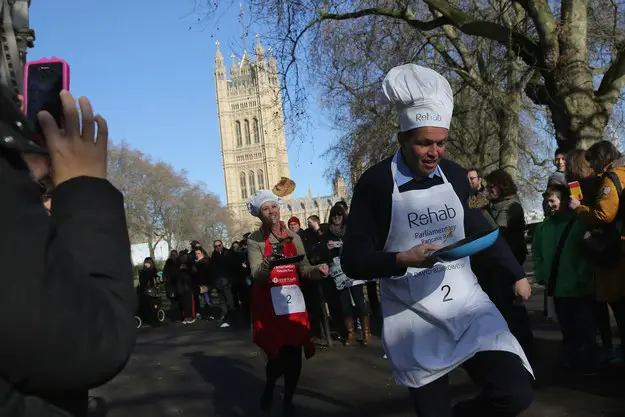 That might have been the most famous pancake race run in 2015, but it certainly wasn't the only one. The idea has spread around the United Kingdom, around the United States, and around the world.
In the U.K., Members of Parliament got into the act, facing off against members of the British media in a race around a park in Westminster (left). The race is a fund-raiser for Rehab, a brain charity. Six MPs raced six journalists. The journalists won.
The idea of a pancake race as a fund-raiser has really taken off, with races all over the U.K. benefiting local charities. Participants can earn prizes, and everyone who flips the cakes usually gets a postrace meal of ... pancakes.
The same is true in the U.S. Keeping with the church theme, the Washington (D.C.) National Cathedral puts on its own pancake race each Shrove Tuesday, with the winner taking home the Golden Skillet.
Events in cities and towns in states across the U.S. have similar events, ranging from a single race to a full-day festival.
This year, secondary students in Hong Kong (right) dressed up in style and flipped their pancakes in a race to benefit Feeding Hong Kong, a local food bank.
One New Zealand secondary school took the pancake race concept one step further by having its participants cook their own pancakes first, at school. The team of four consisted of a cook, a walker (who carries the cooked pancake to the race course), and two runners, who ran the race, relay-style. All participants had to flip the pancake at least once.
All of this pancake race business stems from an English story. As the story goes, an Olney woman in 1445 was cooking up a pancake in a skillet when she heard the village church bells ring, announcing the Shriving service. The woman, fearful of being late, dashed out of her home and to the church, still carrying the pan with the pancake in it.
Shrove Tuesday is a day of focus and reflection ahead of Ash Wednesday, an important day in the Christian calendar. The tradition of pancakes or the equivalent on Shrove Tuesday is an old one. The idea of Lent used to be that Christians observing a traditional "giving up" of something important to them would refrain from eating dairy products and foods full of sugar. So, to use up any existing milk and eggs and sugar, people commonly made a lot of pancakes and ate them. (Shrove Tuesday has also been called Pancake Tuesday. It coincides with Mardi Gras.)