Floodwaters Still Crippling Pakistan
---
September 13, 2010
Pakistan continues to be inundated by flooding and suffering.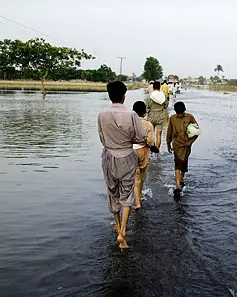 In the third month of the worst flooding in the country's history, nearly 17 million acres of prime agricultural land still lie underwater, their potential for producing food growing dimmer with each passing day. That lack of food potential spells a continued grim picture for the millions of people left homeless and hungry by the continual rains. International aid from governments, corporations, charities, and individuals has come in at a steady pace; but the number of needy continues to outnumber the number of dollars of aid sent.

The death toll has exceeded 2,000. More than a million homes have been destroyed. Nearly 20 percent of the entire country lies underwater.

Diseases such as cholera have been reported in the wake of the flooding, as conditions already barely sanitary have deteriorated. Entire families and villages have been forced to vacate their homeland and live in unfamiliar areas and conditions. Struggling to find new sources of food and safe water, these people are having to make choices, at times neglecting such basics and medical care.


According to estimates by the World Health Organization, nearly one million Pakistani women will give birth in the next six months and many of them will experience birth complications directly related to the floods and their aftermath. Many women marooned by rising floodwaters have been unable to make needed visits to medical facilities; other women have made such journeys anyway, putting themselves and the unborn children they carry at risk, such as by walking through unsanitary water or undergoing journeys of more than 20 miles one way on foot. Other women have found it a challenge to eat enough to feed both themselves and their unborn children in the last weeks and months of pregnancy. Many women have given birth already in unsafe conditions, some without even a wrap for their newborns.

The country's electrical power infrastructure lies vulnerable, as does the country's fragile efforts to combat the infiltration of opportunistic elements from neighboring Afghanistan, where a fierce war is still being waged between the Taleban and international forces led by the United States.

The worst of the monsoon season is already over, and Pakistani officials hope that the worst of the flooding is behind them as well.

Social Studies
for Kids
copyright 2002-2014,
David White
---