Aid Pouring in to Waterlogged Pakistan
---
August 20, 2010
Pakistan is still reeling in the wake of staggering amounts of rain and homelessness in the wake of the worst monsoon precipitation in nearly a century.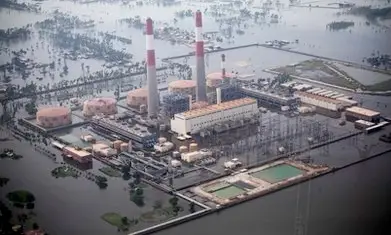 More than 20 million people have been affected in some significant way. The death toll has exceeded 1,500. The number of villages underwater is in the tens of thousands. The number of homeless is in the millions.

About the only really bright spot so far is the fact that the country is sitting on a food surplus. That will certainly be welcome news to the thousands who have lost their farms and their livelihoods as the floodwaters have risen.

Aid has begun to pour in. United Nations Secretary-General Ban Ki-moon has a set a target of $460 million from the rest of the world. The U.S. Government has promised $150 million in aid. Secretary of State Hillary Clinton has also made a personal appeal to Americans, urging them contribute to a special fund set up to direct aid to those who need it most.

Other countries, notably China, have sent money, food, and medicine as well. The Asian Development Bank has set aside $2 billion to help rebuild Pakistan once the floodwaters recede.


Some areas have fared better than others. Villages on higher ground have survived largely intact, as have many roads and areas protected by canals and embankments. These areas are likely to face a crush of immigration from areas currently underwater, including many people whose mud-brick houses proved no match for the weight of the water surrounding them.

The 2005 earthquake had a higher death toll, as did the 2004 tsunami, but the sheer number of Pakistani people now facing an uncertain future dwarfs those two disasters.

U.S. Senator John Kerry diverted his entourage from a tour of neighboring Afghanistan to survey the carnage in Pakistan — a reminder as well that just over the border is an ongoing war. The U.S. in particular has counted on Pakistan to provide several forms of assistance in the nearly nine-year-old war.


Social Studies
for Kids
copyright 2002-2014,
David White
---