Pakistan: Rains Let Up, Aid Still Lagging
---
August 15, 2010
The rains have eased across Pakistan, but aid is still slow in coming, according to the Pakistani government and international authorities.

Rainstorms were expected to ease for a few days during monsoon season, and relief officials were hopeful that flooding would recede and relief efforts could go forward amid one of the worst disasters in Asia in quite some time.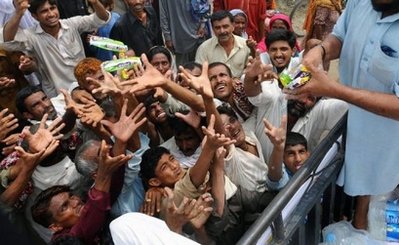 The known death toll has exceeded 1,600. Some affected areas are remote, though, and government officials hesitate to speculate on the number of dead or missing there. Aid to those areas has been especially slow, slower than the pace that aid has been coming in to populated areas — and that is not very fast.

The United Nations has estimated that the aid needed is close to $500 million. That number is nothing compared to the estimated $1 billion lost in ruined farmland.

The first case of cholera has been reported, and U.N. officials fear much more damage from disease possibly than from the initial flooding.

U.N. Secretary-General Ban Ki-moon has been touring the country and says he has never seen a disaster so bad.


A staggering 2 million people have been left homeless by the worst rains and flooding in many, many years. Stories continue to circulate of whole cities and towns lacking necessities like adequate food, clean water, medical supplies, and sewer services.

Makeshift villages made up of homeless people living in temporary tents have sprung up around the country, alongside roads and pathways across the countryside dotted with floodwaters.

Social Studies
for Kids
copyright 2002-2014,
David White
---