Monsoon Flooding Overruns Relief Efforts in Pakistan
---
August 8, 2010
The rain keeps falling on Pakistan, as the country reels from some of the worst monsoons in nearly a century. Millions of people have been left homeless, hundreds of thousands of homes have been damaged or destroyed, and the death toll has topped 1,600.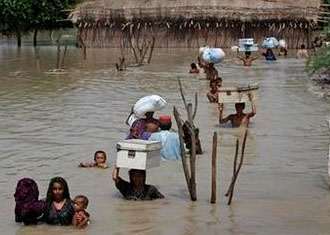 Pakistan, not exactly a rich country, has large swaths of people living in poverty or very near it, their lives and livelihoods subject to the whims of the seasonal rains that always seem to find the people who need challenges the least.

The government of President Asif Ali Zardari has responded as best it can, but resources on the ground are thinly stretched. Government officials now say that the toll from this year's floodings exceeds that of the 2005 earthquake, one of the deadliest in the country's history. Already, up to 12 million people have been affected, more than four times that of the quake.

The military is now involved as well, with navy boats carrying many people to safety and promising rescue for many more. That sight will be extremely welcome to people gathering for shelter atop mosques and other tall buildings, questioning their future as the monsoon nears just its halfway point.


The news of intense flooding in regions such as the Punjab is especially unwelcome, since agriculture is one of the prime movers of that region's economy and the usually prime agriculture land is now underwater.

In response, many countries around the world — most prominently so far China, France, Australia, the U.S., and the U.K. — have promised or already given a total of tens of millions of dollars.

Pakistan was in dire straits before this latest monsoon, though, with inflation approaching 12 percent and the war in nearby Afghanistan occupying much of the country's attention and expenditures.

Social Studies
for Kids
copyright 2002-2014,
David White
---