Oldest Marathoner to Retire at 101
---
January 31, 2013
Fauja Singh will run his final marathon on February 24. He will be five weeks away from his 102nd birthday.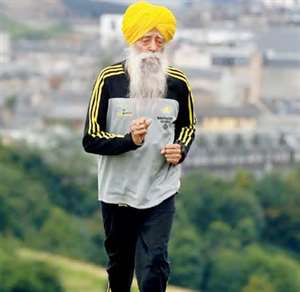 Singh, the oldest person ever to complete a marathon, has run eight of the 26.2-mile races in his lifetime, beginning in 2000, when he was 89. His debut marathon finish time was 6 hours, 54 minutes, which was nearly an hour faster than the previous record for that age group.
Born in India in 1911, he had very weak legs and did not walk until he was 5. He made up for lost time as a teen and young man, adopting running as a hobby. As an adult, he spent many years working on a farm, got married, and had several children. In his long life, he has seen several grandchildren as well.
After his debut in 2000, he found that he really liked running long distances. He ran the marathon in London for the next four years, reaching a personal best marathon finish time of 6 hours, 2 minutes in 2003. In addition to the five London marathons, he has run two in Toronto and one in New York.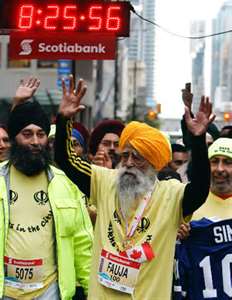 On October 16, 2011, he became the first 100-year-old person to complete a marathon, finishing the Toronto Waterfront Marathon in 8 hours, 11 minutes, and 6 seconds. (So many runners started that race that it took him 14 minutes to reach the start line.)
He has also run half marathons (13.1 miles) and 10K (6.2 miles) races.
His biography, Turbaned Tornado, was published in 2011. His other accomplishments include carrying the 2004 Olympic Torch and appearing an adidas TV commercial with Muhammad Ali and David Beckham.
At 101, Singh attributes his success to good genetics and a healthy lifestyle, which includes adequate sleep and a diet of vegetables, yogurt, milk, water, and tea with ginger. He avoids fried foods, in addition to cigarettes and alcohol.
After he retires from running marathons, Singh won't be sitting around too much. His plan is to dial back his running to just eight or nine miles a day.
Custom Search
Social Studies
for Kids
copyright 2002-2014,
David White
---