Oldest Printed American Book Sets Auction Record
---
December 2, 2013
The first book printed in what is now America has set a record at auction. The Bay Psalm Book sold for $14.2 million at a Sotheby's auction in New York. The previous record was $11.5 million, paid in 2010 for John James Audubon's Birds of America.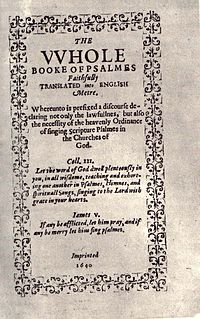 The buyer, David Rubenstein of the Washington, D.C., investment company the Carlyle Group, said that he would loan the book to a number of U.S. libraries before placing it in one of those libraries on long-term loan. The book went on a tour of the country earlier in the year.
Rubenstein is known for buying other historical documents. In 2007, he bought a copy of Magna Carta for $21 million.
As its name suggests, the Bay Psalm Book is a Psalter, or book of Psalms, homilies from the Christian and Jewish traditions. The book was printed by Stephen Day in 1640, just 20 years after the Pilgrims landed at Plymouth Rock. The book remained in use for nearly a century before being supplanted by later tomes.
Only 1,700 copies of the book were printed, in 1640. Only 11 remain.
The previous owners, Boston's Old South Church, will reap much of the financial benefits of the sale. The church is a nonprofit organization that dates to 1669 and needs money to help with building repairs. The church sold another copy in 1947, for a then-record $151,000 (which, adjusting for inflation, would be about $1.5 million today). The church has another copy.
Social Studies
for Kids
copyright 2002-2014,
David White
---