Oldest Printed American Book Up for Auction
---
April 21, 2013
The first book printed in what is now the U.S. is on tour, heading into auction.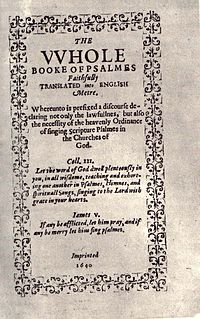 The Bay Psalm Book, printed in Cambridge in 1640, has gone on display at Sotheby's, in New York, and will be on public exhibition in several cities, including Chicago, Dallas, Los Angeles, and Philadelphia, before being put up for auction in November.
Auction organizers expect the book, one of only 11 surviving copies, to fetch between $15 million and $30 million. A previous sale, in 1947, broke records by selling for $151,000 (which, adjusting for inflation, would be about $1.5 million today).
The book, which had been stored in the Rare Book Collection at the Boston Public Library, is one of two owned by Boston's Old South Church, and officials of the church plan to use the funds for repairs on the church
As its name suggests, the Bay Psalm Book is a Psalter, or book of Psalms, homilies from the Christian and Jewish traditions. The book was printed by Stephen Day in 1640, just 20 years after the Pilgrims landed at Plymouth Rock. The book remained in use for nearly a century before being supplanted by later tomes.
Social Studies
for Kids
copyright 2002-2014,
David White
---