---
Dinos and Crayolas and Toys, Oh My!

On This Site
Share This Page

---
Follow This Site



February 15, 2015
And the Oscar goes to ... Zoomer Dino.
That's the Toy of the Year, as named at the 15th Annual Toy of the Year Awards, which took place at the 112th North American International Toy Fair in New York City.
Spin Master's Zoomer Dino, whose owners can train to speak and react and sit, was also named Boy Toy of the Year. Zoomer can "smell" his surroundings, using sensors in his nose, and react accordingly. He can also change his eye color, depending on his mood.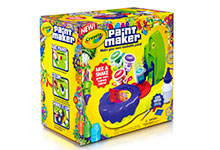 The People's Choice award went to Crayola's Paint Maker, which allows users to create up to 15 custom paint colors in just a few minutes. Paint Maker garnered the most online votes from consumers.
Winning the Girl Toy of the Year award was Shopkins Small Mart Playset, from Moose Toys. The set offers fun within a grocery store environment, with shopping carts, checkout counters, and even conveyor belts for groceries or people.
Other awards were handed out in other categories at the gala event, which took place at the Grand Hyatt Hotel on February 13.
The toy fair officially opened the following day at the Jacob K. Javits Convention Center and featured the latest from toymakers around the world.
Experts saw an increase in toys in the Maker Movement, which allowed kids to make their own unique toys, and in Open-ended Playtime, which allowed kids to exercise their problem-solving and other critical thinking skills while also having fun.
More than 30,000 people were registered to attend the four-day event. Organizers said that the exhibit space was at an all-time high of 422,000 net square feet.
The North American International Toy Fair is run by the Toy Industry Association, a not-for-profit enterprise based in New York and Washington, D.C.