---
Norman Rockwell Undecided Voter Painting up for Auction

On This Site
Share This Page

---
Follow This Site



October 28, 2016
Just in time for the 2016 presidential election, the auction Sotheby's is selling a Norman Rockwell painting of an undecided voter.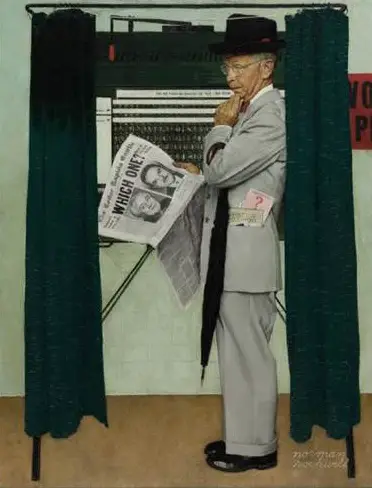 The 1944 painting Which One? (Undecided; Man in Voting Booth) will be on public display on November 4, to publicize the painting ahead of its American auction, which will be on November 21. Experts think that the price paid for the painting will between $4 million and $6 million.
The painting features a man standing a voting booth, with the curtain undrawn; in the man's hand is a copy of the newspaper The Cedar Rapids Gazette, showing the faces of the two major-party candidates in the 1944 presidential election. In that year, the incumbent, President Franklin D. Roosevelt, was running for re-election, for what would be an unprecedented fourth term in office; his opponent was the Republican Party candidate, Thomas Dewey. The image was also a cover of the popular magazine The Saturday Evening Post.
Sotheby's will auctioning the painting on behalf of the estate of horse racing executive Ogden Phipps, who bought painting in 1985 and died in April 2016.
The paintings of Rockwell, one of America's most well-known and most prolific painters, have sold for a wide range of prices through the years. A 2013 auction of Saying Grace resulted in a payment exceeding $46 million, more than twice the estimate.