'Banker to the Poor' Wins Nobel Peace Prize
---
October 16, 2006
Also on This Site
Elsewhere on the Web
A banker and philanthropist from Bangladesh has won the Nobel Peace Prize. Muhammad Yunus, educated in the U.S., won the Prize for his Grameen Bank, which he set up in order to help some of the world's poorest people gain an economic foothold.
Yunus's idea is microcredit, the idea that people can borrow a few dollars at a time and pay it back over time. These people had trouble getting loans from banks because bank loan officials said the people couldn't meet the banks' minimum requirements. For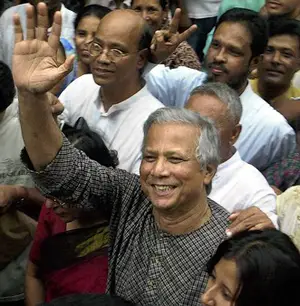 Yunus and Grameen Bank, no loan is too small or insignificant.
It's not just people in Bangladesh, either. People all around the world have benefited. Most of those in need have been women, and they have borrowed a few dollars at a time in order to buy things as simple as a cow, a rickshaw, or a cell phone. They have paid back their loans and have started their own businesses as well.
Yunus, who is being called the "Banker to the Poor," said that he would use a significant portion of the $1.4 million that accompanies his Peace Prize to help set up a new food program for the poor. This program, to be called Social Business Enterprise, will sell high-quality, high-nutrition at a small cost.
Yunus is the first person from Bangladesh ever to win a Nobel Prize.
---
---

Social Studies
for Kids
copyright 2002-2014,
David White
---