Nelson Mandela Dies at 95
---
December 6, 2013
Nelson Mandela, a symbol of hope and political promise for so many people for so long, has died at his home in Johannesburg. He was 95.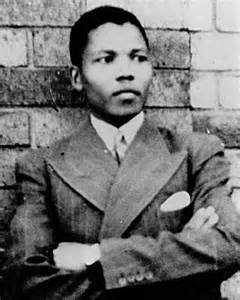 Mandela, imprisoned for decades for daring to speak out and urge action, sometimes violent, against the apartheid system of government in South Africa, made history when he became his country's black president, in 1994. The recipient of the Nobel Peace Prize and many other accolades, Mandela was a beacon of freedom for oppressed peoples in his own country and elsewhere. His health had declined markedly in the past few years, and he was near death early in 2013. His family was at his side until the last.
Mandela was born on July 18, 1918, in Nveso, a prince, the son of the main councilor to the chief of the Thembu people. Determined to educate himself, he attended Fort Hare University but left before getting his degree to join the African National Congress (ANC), helping found the Youth League in 1944. Mandela was a law clerk and then, after earning a law degree, a lawyer. His partner in the law practice was Oliver Tambo, later ANC chairman.
Since the early 20th Century, white South Africans controlled nearly all of the property and all of the political power. As early as 1923, the African National Congress was in operation, speaking out against the racist policies of the South African government. Apartheid, meaning "apartness," became official policy in 1948. A series of laws restricted much of day-to-day life for black South Africans.
An early agitator for fuller rights for blacks, the majority in population in South Africa, Mandela continued to act out and speak out against apartheid. In the 1960s, in particular in response to the Sharpeville Massacre, in which 69 people were killed and 187 wounded, Mandela began to call for armed resistance, helping found Umkhonto weSizwe, an armed resistance group affiliated with the African National Congress. He left for a time to learn the ways of guerrilla warfare, in Europe and elsewhere. Married in 1954, he was divorced from his first wife, Evelyn, in the early 1950s.
When Mandela returned to South Africa, in 1962, he was arrested and sentenced to five years in prison for urging armed resistance and for illegally leaving the country. A subsequent sentence, in 1964, extended his expected prison term to life. He was sent to Robben Island, near Cape Town, where he spent 18 years behind bars before being moved back to a prison on the mainland.
Mandela was a symbolic leader of black resistance to apartheid, even though he was in prison. Protests continued, both violent and nonviolent. Pressure from other countries grew. The United Nations denounced apartheid. When the South African government realized that it was time to negotiate an end to apartheid, it turned to Mandela, who met first with P.W. Botha and then with his successor, F.W. de Klerk.
On February 11, 1990, Mandela walked free from Victor Verster Prison. He was holding the hands of his second wife, Winnie, as people around the world watched on television.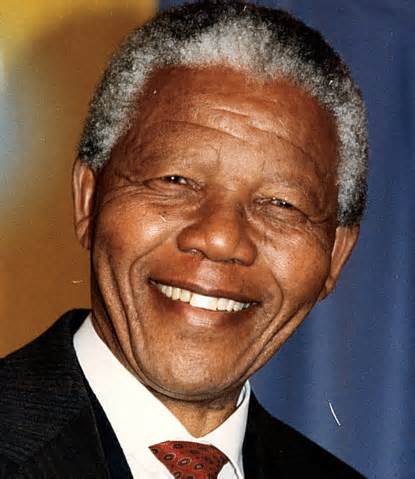 Official talks between the government and the ANC began in 1991. The violence in the streets continued, however, as blacks frustrated with the slow pace of change vented their frustrations and whites not happy with the direction their country was going fought back. Thousands of people died in these struggles.
Mandela, the onetime guerrilla leader, urged calm and took to the national airwaves to reiterate his claim that only the peaceful way would bring progress. (He and de Klerk shared the Nobel Peace Prize in 1993.) The result was the country's first multi-racial elections, on April 27, 1994. The new president was Mandela himself. He published his autobiography, Long Walk to Freedom, later that year.
Two years later, Mandela and his wife, Winnie, divorced. Mandela married again, in 1998, this time to Graca Machel, the widow of the president of Mozambique.
Mandela stepped down as president in 1999 and turned his efforts to other things, notably charity and diplomacy, including helping address the rise of AIDS in South Africa. His only surviving son died of the disease in 2005.
His three decades in prison were not kind to his health, even though he maintained a rigor of regular exercise; and Mandela suffered many ailments in his last years. He had treatment for tuberculosis in 1980, an eye operation, and then prostate cancer treatment, in 2001. He continued in poor health but was determined to make a public appearance at the final of the Soccer World Cup, in 2010, in front of a crowd of 90,000 and a worldwide audience of hundreds of millions.
Humble to the end, despite his towering achievements, Mandela said, among many other things, "I should like to be remembered as an ordinary South African who together with others has made his humble contribution."
Custom Search
Social Studies for Kids
copyright 2002-2014,
David White
---