Mandela Statue Stands Tall over Seat of Government
---
December 16, 2013
A day after Nelson Mandela was buried, he appeared in Pretoria.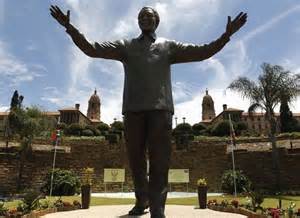 The iconic leader appeared in the form of a 30-foot-tall bronze statue, outside the Union Buildings, the head of the government in the South African capital. Mandela's broad smile and outstretched hands show an embrace of the entire country, President Jacob Zuma said at the statue's unveiling, which came on the Day of Reconciliation, a new holiday created in 1994, along with Mandela's inauguration as his country's first black president, to overwrite the existing Day of Covenant, which honored an 1838 military victory.
December 16 was also the day in 1961 that Mandela and others launched a military wing of the African National Congress called Umkhonto we Sizwe ("Spear of the Nation"). For years, December 16 was seen as a day of protest by blacks in South Africa. It was that action, coupled with others of resistance against apartheid, that landed Mandela in prison.
Mandela died on December 5, and during the 10 days of mourning and his lying-in-state and his memorial service and his funeral, people far and wide paid tribute to his perseverance, his dignity, and his belief in his fellow man and woman.
The new statue joins several of Mandela in South African and in other countries. It is near the ampitheater in which Mandela's coffin was arrayed for the lying-in-state. More than 100,000 people, some of them standing in line for hours, paid their respects. The amphiteater now bears his name.

Custom Search
Social Studies for Kids
copyright 2002-2014,
David White
---