Thousands Remember Mandela at Rain-soaked Memorial
---
December 10, 2013
Nelson Mandela's memorial service was a rainy one, but South Africans considered that a blessing.
The four-hour memorial service in Johannesburg featured more than 70 current or former world leaders, more than at any such service since the death of Pope John Paul II, in 2005. The memorial took place in Soweto's FNB Stadium, known as Soccer City, site of the 2010 Soccer World Cup and Mandela's first post-prison speech and of his final public appearance. The 95,000-capacity stadium featured some empty seats, possibly because of the wet weather. Still, thousands waited in long lines in the pouring rain to pay tribute to the man who more than any other symbolized South Africa's struggle-turned-togetherness during the past several decades.
Many in the country had two days earlier, soon after the announcement of Mandela's death, gathered on a national day of prayer and reflection. Authorities announced that Mandela's body would like in state in Pretoria for three days before a planned burial at his family graveyard, in Qunu, where he grew up and spent much of his post-presidential career.
In Qunu and elsewhere across the street, people sang, of Mandela and his inspiration, of his place in history. People sang the national anthem again and again. Celebrations in the street were sober; reflections in nearby houses were somber.
Archbishop Emeritus Desmond Tutu had earlier led an emotional service at St. George's Cathedral in Cape Town.
South African tradition holds that rain is a blessing, a sign of being welcomed into the next life, according to African National Congress Deputy President Cyril Ramaphosa, who was host for the Soweto ceremony. Huge posters holding pictures of Mandela dominated the scene. People danced and sang and blew their vuvuzelas, the plastic horns that gained worldwide prominence during the 2010 World Cup. People in the crowd spoke fondly of their memories of the man they called "Mandiba" and "Tata" (father in the language of Mandela's Xhoas tribe). In attendance were Mandela's last two wives, Winnie Mandela and Graca Machel. They embraced as they arrived.
The service, which coincided with U.N. Human Rights Day, began with a marching band's performance of the national anthem.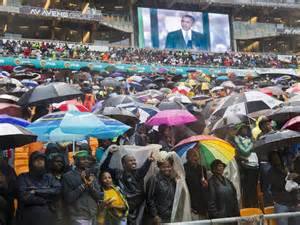 Several of the world's most familiar faces had sendoffs for Mandela.
United Nations Secretary-General Ban Ki-moon said that Mandela had demonstrated the true meaning of peace and "the awesome power of forgiveness."
U.S. President Barack Obama called him a "giant of history" and had this to say of Mandela's legacy: "He tells us what is possible not just in the pages of history books, but in our own lives as well."
South Africa's current president, Jacob Zuma, had this to say: "Everyone has had a Mandela moment when this world icon has touched their lives."
Also giving remarks were Brazilian President Dilma Rousseff, Cuban President Raul Castro, Chinese Vice President Li Uyanchao, Namibian President Hifikepunye Pohamba, and Indian President Pranab Mukherjee.
Other foreign dignitaries included French President Francois Hollande, Liberian President Ellen Johnson Sirleaf, British Prime Minister David Cameron, Prince Charles, former U.S. Presidents Jimmy Carter and George W. Bush, and former U.N. Secretary-General Kofi Annan.
Other famous faces in attendance included U2 lead singer Bono, supermodel Naomi Campbell, and actress Charlize Theron.
Security was tight, with an elite military task force on patrol and helicopters and military jets making flyovers. Private vehicles were banned from the area around the stadium. People waited hours, singing and dancing in the rain, for a bus ride to the stadium.
Custom Search
Social Studies for Kids
copyright 2002-2014,
David White
---