Mandela Buried at Ancestral Home
---
December 15, 2013
The tributes were long and short, varied and similar, punctuated by laughter and song, at the burial of Nelson Mandela, the famed South African leader who died on December 5. His body, after lying state for three days in Pretoria, was buried in his hometown of Qunu.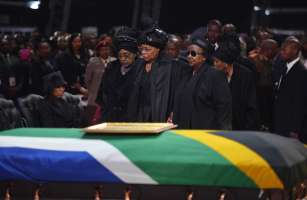 The ceremony had a touch of pomp, with a 21-gun salute from a row of cannons and helicopters overhead carrying a giant national flag. Suitably attired dignitaries related their favorite Mandela moments. Tribal leaders wearing animal skins exhorted the crowd to remember the Mandela message. A giant picture of the inspirational leader looked serenly down on the proceedings.
The coffin was draped in the national flag and was fronted by a design of 95 candles, one for each year of Mandela's life.
About 4,500 people attended. Larger crowds in other cities watched on giant screens at stadiums.
South African Jacob Zuma referred to Mandela as "Africa's greatest son." The leaders of Malawi and Tanzania spoke about the special bond that they had with Mandela. It was to Tanzania that Mandela fled along with outlawed African National Congress leaders in the 1960s. Hailemariam Desalegn, the president of Ethiopia and chairman of the African Union, spoke as well. Giving a poignant farewell was Ahmed Kathrada, who was imprisoned with Mandela on Robben Island.
Also on hand was former Archbishop Desmond Tutu, a longtime Mandela friend.
Attending were other foreign dignitaries, including the United Kingdom's Prince Charles and Sinn Fein leader Gerry Adams. Celebrities in attendance included Virgin Atlantic owner Richard Branson, entertainment mogul Oprah Winfrey, and actor Idris Elba, who portrays Mandela in a new movie.
Up to 100,000 people had filed past the open casket during the lying-in-state in Pretoria, the capital.