Nelson Mandela, Accomplished Author
---
December 11, 2013
So much has been written about Nelson Mandela through the years, but he was an accomplished writer himself, publishing several notable collections of words and photographs during a two-decade span.
When he was released from prison in 1990, he published Nelson Mandela: The Struggle Is My Life, a collection of speeches he gave and writings he crafted starting in 1944.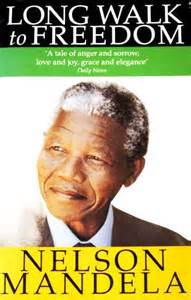 In the same year that he was elected South Africa's first black president, Mandela published his famous autiobiography Long Walk to Freedom, chronicling his life from tribal beginnings through his university and legal study days, and his struggle against apartheid and imprisonment.
Two years later, in 1996, he added nearly 200 photographs to his life story, along with an abridged sampling from Long Walk to Freedom, in publishing Mandela: An Illustrated Autobiography. A second photobook, again with an abridgement from Long Walk to Freedom, was titled A Prisoner in the Garden. Appearing in 2006, it also contained images of handwritten diary entries, letters, and memoirs, along with official documents relating to his imprisonment and release.
In his post-presidential career, Mandela kept on publishing. In 2004, he chose a number of his favorite African folktales and got some famous people to read them for an audiobook, Favorite African Folktales. Among the voices are Matt Damon, Helen Mirren, Samuel L. Jackson, Alan Rickman, and Charlize Theron.
The last anthology of Mandela's writings, Conversations with Myself, appeared in 2011. The foreword by American President Barack Obama precedes a host of items written by Mandela, including letters to family and dignitaries and transcripts of speeches and interviews.
Custom Search
Social Studies for Kids
copyright 2002-2014,
David White
---