Miss Piggy, Muppets Join Kermit in Smithsonian
---
September 24, 2013
The National Museum of American History is now home to dozens of Muppets and props from the televised genius of Jim Henson.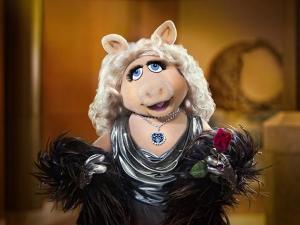 Kermit the Frog was already in the Smithsonian, but Miss Piggy is now there as well, as are Ernie and Bert, Grover, Cookie Monster, Count von Count, Fozzie Bear, the Swedish Chef, and several other well-known puppet characters who starred in The Muppet Show, Sesame Street, and Fraggle Rock.
Miss Piggy made quite a splash in her new venue, wearing the Hope Diamond and looking fondly at the Ruby Slippers of Dorothy from The Wizard of Oz. The porcine preener was the subject of an extended photo shoot by award-winning fashion photographer Cade Martin.
The Smithsonian announced the Muppets donation on the 77th anniversary of Henson's birth. (He died in 1990.)
Some of the Muppets will require extensive work to get them ready for viewing. The Muppets were not at all designed to last for decades, and some of them have deteriorated in recent years. Others have been in boxes, gathering dust.
A Smithsonian exhibit titled Puppetry in America and opening in November will feature some of the newly arrived Muppets. Miss Piggy will feature in a different exhibition, one called American Stories, which will open in 2014.
Some Muppets are early versions of more familiar faces. The Grover that will go on display is green, not the blue variety that has become familiar to so many Sesame Street viewers. Another familiar character from The Muppet Show, Rowlf the Dog, was originally a spokesdog for Purina before joining Henson's stable of characters.

Custom Search
Social Studies
for Kids
copyright 2002-2014,
David White
---