Mount Rushmore Is Moving ... But Only a Little
---
Mount Rushmore is moving.

Yes, it's true.

But it's moving only a very, very small amount. Still, it is interesting to note that the huge granite monument is moving at all.

Here's why:

First of all, it's not one big rock but is really 25 to 30 massive blocks of granite fused together. Even in the tightest of groupings, this can lead to the slightest of movement, as caused by water and temperature. And that is exactly what has happened.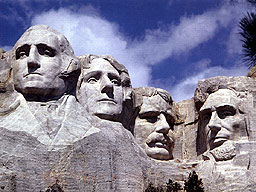 Differences in temperature, which in South Dakota can be very big, can be responsible for shifts in the rock formations. So, too, can the rush of water from rainfall. The National Park Service has installed tracking devices on four large blocks of granite, to monitor the movements of rock. Two are on Abraham Lincoln's head; the other two are to the right of George Washington's head. Every four hours, the devices take measurements and send that data to a computer.

If a rock has moved as much as a thousandth of an inch, the Park Service will know about it. So far, the measuring devices, which were installed in 1999, have tracked movements as small as five-thousandths of an inch and as large as five-hundredths of an inch. Every single time, the rock has moved back to its original position.

Nothing to worry about, right? Well, almost.

If the rock continues to move in one direction without moving back to its original position or if the movements get too big, the Park Service will send in crews to stop the movement. That's what the computers are for, to give off "warning signals" of too much movement.

The monument, which was carved between 1927 and 1941, underwent maintenance in the 1970s, when repair crews fixed water leaks behind the heads of each of the four presidents.

The huge heads aren't likely to slide down off the mountaintop anytime soon. But it is interesting to note that they are moving, if even very slowly and very slightly.


Graphics courtesy of ClipArt.com
---
Custom Search

Social Studies
for Kids
copyright 2002-2014,
David White
---