Mount Rushmore Goes 3-D
---
May 24, 2010
Movie theaters and TVs aren't the only things going 3-D these days. Soon, you'll be able to see a three-dimensional image of the massive Mount Rushmore National Monument on your computer. (The ultimate 3-D experience is to go there in person, of course.)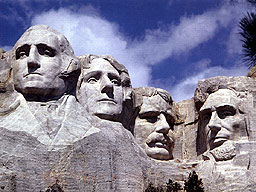 A California-based nonprofit group, in conjunction by the U.S. National Park Service, is using lasers to map the fine points of the giant granite faces of George Washington, Abraham Lincoln, Thomas Jefferson, and Theodore Roosevelt, so that computer-users to study the huge heads in three-dimensional detail. The group, CyArk, is part of the Kacyra Family Foundation, out of Orinda. The group's goal is to scan hundreds of the world's heritage sites, to preserve them for posterity and to provide a digital "backup," in case of damage.


The Scottish connection comes in the form of that country's government's "Scottish 10" project, the goal of which is to scan 10 historic sites – five in Scotland and five elsewhere in the world. Mount Rushmore is the first non-Scottish site to be scanned. The other four are not yet known.

Mount Rushmore is one of America's most recognizable monuments, especially because of the giant heads. The monument was largely the product of the determination of Gutzon Borglum, a sculptor who toiled for 14 years to see his vision come to life.

The giant heads were carved into the side of a granite mountain 23 miles southwest of Rapid City, S.D. They have been a prime tourist attraction since the monument opened. They are also moving.

Social Studies
for Kids
copyright 2002-2014,
David White
---