Mount Rushmore Gets First-ever Cleaning
---
July 11, 2005
For the first time in its 65-year history, Mount Rushmore is getting cleaned. The famous South Dakota monument, which features giant faces of former U.S. Presidents Washington, Jefferson, Lincoln, and Theodore Roosevelt, has accumulated a wealth of dirt and grime over the years, despite being made of granite. Now, the clean-up has begun.
A German company, Alfred Karcher GmbH & Co., has donated the services needed for the cleaning, which is expected to take about five weeks.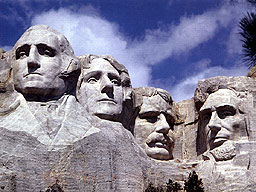 One of the main culprits, aside from dirt, is lichens, the tiny plants that grow inside the tiny cracks that are forming in and around the giant heads. These lichens produce an acid that can damage the rock. The cleaning aims to get rid of the dirt and the lichens.
Workers from the National Parks Service are assisting in the endeavor.
The monument was conceived and created by American-born Gutzon Borglum, the son of Danish parents. He and a team of 400 workers sculpted the 60-foot-tall busts into a 5,725-foot-tall mountain off-and-on between 1927 and 1941. The faces are 500 feet off the ground and were carved into the famed Black Hills of South Dakota.