A Month at the Museum, by Choice
---
November 22, 2010
What's it like living in a museum? Kate McGroarty knows.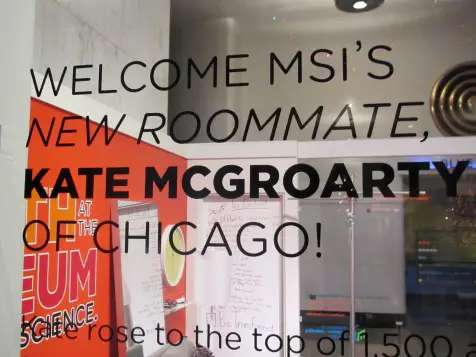 The 24-year-old actress-writer from Chicago (originally from Minnesota) recently completed her 30th day of working, eating, and sleeping at the Chicago Museum of Science and Industry. She was the winner of the Month at the Museum contest, which featured five finalists being chosen from 1,500 applicants and McGroarty being chosen from the final five.
Beginning on October 20, she accompanied school exhibits, answered media requests, and otherwise helped the museum in their efforts to reinvigorate interest in the museum, one of the world's largest, containing almost 14 acres of exhibits on all aspects of science and learning, from the well-known (the Apollo 8 command module and a U-boat submarine) to the pedestrian (run-of-the-mill planes, trains and automobiles and even a coal mine).
Every day, up to four times a day, McGroarty gave updates to "the outside world," via a blog, Facebook, and Twitter. She even produced videos and posted them on YouTube.
That U-boat? She slept in it one night, in one of the bunks, just to see what it was like. One of her favorite places to lay her head was the "Smart Home," which is so environmentally friendly that it be a poster for any sort of clean green movement.
She spent the most time, however, in "The Cube," her home away from home, the main floor 16-foot-by-16-foot glass room from which she posted her web updates, videos, and tweets. She gained quite a following as well, many of whom came to the museum just to see her.
One thing the stay definitely did for McGroarty was to reignite her interest in science. An arts and communications student at nearby Northwestern University, she had long thought that science was either too hard or too much. Her month in the museum has changed her mind.
Among her highlights:
seeing some baby chicks hatch overnight
being able to access some very small books, part of the Fairy Castle tiny book collection normally kept in a secure vault
taking multiple tours of Science Storms, an immersive exhibit that showcases tornadoes, lightning storms, and other disturbances from Mother Nature
spending time in the Muppets exhibit
sharing a meal with Apollo 8 mission leader James Lovell (her new hero).
Read more about Kate here.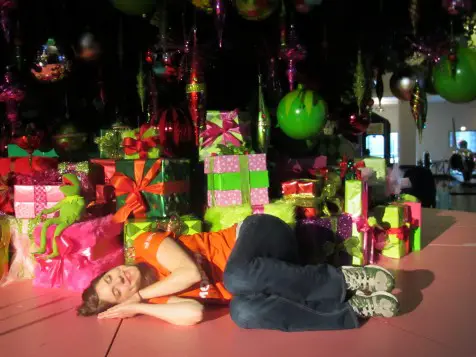 Social Studies
for Kids
copyright 2002-2014,
David White
---