Monster High Scaring Up Popularity
---
December 10, 2010
Who knew that monsters would be so popular? Well, many people, as it turns out.

The current monster craze is not at all confined to the adult fans of vampires or werewolves. No, youngsters are getting in to it as well. One of the main trends coming into sharp focus lately is the dolls associated with Monster High.

Ostensibly, they're dolls, from Mattel, released earlier this year. But with a TV special, one book already out and another on the way, a YouTube channel, two seasons of webisodes, a theme song available on iTunes, and a website dedicated to all things doll-y, Monster High is more than a group of children's playthings, it's a phenomenon.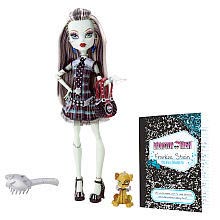 All students and staff at Monster High are, well, monsters. The main character is Frankie Stein, who is based on Mary Shelley's monster in the novel Frankenstein (and who looks more than a bit like Boris Karloff in the famous movie). Frankie covers up her green skin with makeup and her neck bolts with collars or scarves.

Keeping with the vampire craze that is once again gripping the world, there's Draculaura, who looks like Bela Lugosi in the movie Dracula. She has the typical trappings of pointed ears and no reflection, although she loves creative writing and has a pet bat named Count Fabulous.

What would a set of monsters be without a mummy? At Monster High, that's Cleo de Nile, the daughter of the mummy of Imhotep from that classic Hollywood film The Mummy. Cleo routinely wraps herself in bandages, and her favorite subject is geometry.

Cleo de Nile doesn't much like Clawdeen Wolf, one of the other main characters (and a very good friend of Frankie Stein and Draculaura). Clawdeen's werewolf tendencies include large fangs, wolf ears, and a tendency to howl at the moon.


Other characters of note:
Abbey Abominable, the daughter of the Abominable Snowman
Deuce Gorgon, whose mohawk is made of green snakes and whose mother is Ghoulia Yelps, a zombie who is the smartest girl in school
Jackson Jekyll and Holt Hyde, who never seem to appear together
Lagoona Blue, who is is captain of the swim team and whose name suggests the Creature from the Black Lagoon
Operetta, the daughter of the Phantom of the Opera.
The students are halfway through their second season of webisodes, so more adventures are sure to come, especially in the friends department, as the school is not without its cliques, rivalries, and difficulties associated with teenage angst.

It all adds up to a renewed fascination with the classic monsters of the 20th Century, with fans getting younger and younger all the time.

Social Studies
for Kids
copyright 2002-2014,
David White
---