Monument to Honor Military Dogs
---
October 30, 2012
America will soon have a national monument honoring dogs that have served in the military.
The U.S. Working Dog Teams National Monument will have its permanent home at Lackland Air Force Base in San Antonio. Before then, however, the monument will be a bit mobile, as its handlers will take it on a tour of the country. In addition, a float in the annual Tournament of Roses parade in Pasadena will be a replica of the monument.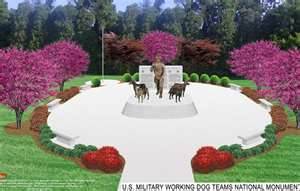 The monument will feature a dog handler and a Doberman, a German shepherd, a Labrador retriever, and a Belgian Malinois, all breeds that have been used in wartime. The handler will be 9 feet tall and weigh 1,500 pounds. Each will be 5 feet tall and weigh 550 pounds. The handler and the dogs will stand on a pedestal; the background will be a granite wall that will have photos of dog teams in combat from various wars.
The wall will also contain an inscription from the man who made the monument possible, John Burnam, a military dog handler who spearheaded the monument movement after writing book titled Dog Tags of Courage and A Soldier's Best Friend. Burnam, who received the Purple Heart, Bronze Star, and Legion of Merit, served in the Vietnam War and was accompanied by two dogs, most notably a German shepherd named Clipper. Burnam said Clipper saved his life more than once.
A nationwide appeal from Burnam found a backer in Washington, D.C., and Congress and the President authorized the monument.
Custom Search

Social Studies
for Kids
copyright 2002-2014,
David White
---