Snow Stymies Middle East; Thousands Endangered
---
December 17, 2013
Several Middle Eastern countries are shivering in the cold, the result of a snowstorm that has not touched some parts of the area for decades.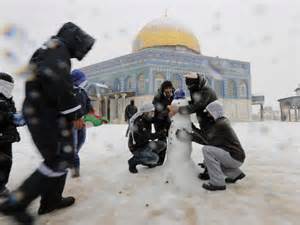 Cairo, Egypt's capital, had a good dose of snow, the kind familiar to residents of Europe and northern North America this time of year but utterly unfamiliar to people living in Egypt, Israel, Jordan, Lebanon, and Syria. Reports of large numbers of snowman-construction were common in Egypt and Israel, as residents took advantage of what many saw as a once-in-a-lifetime opportunity. Cairo hasn't seen snow in a century, and streets were empty. Israel got a relatively small amount of snow, but the result was not a lot of activity in the streets, either. Power was out across the region.
The blizzards and freezing rain were not much welcomed in parts of Jordan and Lebanon, both home to refugees from Syria's ongoing civil war. United Nations officials worried that hundreds of thousands of people, including those still living in Syria, were at risk, having only the barest of essentials in terms of clothing and shelter. The severe weather has delayed aid shipments to the nearly 1 million displaced Syrians.
Custom Search
Social Studies for Kids
copyright 2002-2014,
David White
---