Thatcher Buried in Grand Style
---
April 17, 2013
Margaret Thatcher has been buried in the largest funeral production since that of Winston Churchill half a century before.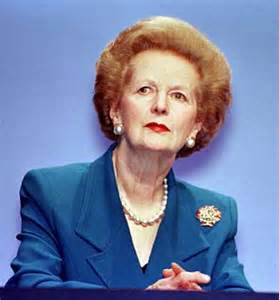 Thatcher, the longest-serving British Prime Minister of the 20th Century, died at 87, of a stroke. She had been ill for quite awhile.
A polarizing figure in office, she was known as a leader who transformed British politics and society. That polarization was evident in the contrast between the thousands of supporters who lined the streets of London to pay their respects as the flag-draped coffin rolled by in a horse-drawn gun carriage and the detractors who were heard shouting their continued disapproval.
Among the honors accorded to her was a gun salute from the Tower of London every minute, a military band playing, and the silence of the Big Ben bells.
Among the 2,000 people who attended the funeral in St. Paul's Cathedral were two heads of state, 11 serving prime ministers, 17 foreign ministers, and many other dignitaries.
Notable political figures attending included the following:
Queen Elizabeth II and Prince Philip
Crown Prince Pavlos of Greece and Princess Marie-Chantal of the Hellenes
British Prime Minister David Cameron
Israeli Prime Minister Benjamin Netanyahu
Canadian Prime Minister Stephen Harper and former Prime Minister Brian Mulroney
German Foreign Minister Guido Westerwelle
Former U.S. Vice-president Dick Cheney and Secretaries of State Henry Kissinger, George Schultz, and James Baker
Greek Foreign Minister Dimitris Avramopoulos
Poland's Prime Minister Donald Tusk and former leader Lech Walesa
The Bishop of London gave a eulogy, and the music included Thatcher's favorite hymns.
Czech Republic's Prime Minister Petr Necas and former President Vaclav Klaus
Former U.K. Prime Ministers John Major, Tony Blair, and Gordon Brown
Former Australian Prime Minister John Howard and his wife, Janette
Former Prime Minister Mahathir of Malaysia
Former South African Prime Minister F.W. de Klerk.
Former First Lady Nancy Reagan and former Soviet leader Mikhail Gorbachev, two of Thatcher's greatest friends, were absent because of poor health.
The Bishop of London gave the eulogy, and the music included Thatcher's favorite hymns.
A day earlier, lawmakers and the family of Margaret Thatcher attended the former Prime Minister's private memorial service on Tuesday, in a low-key prelude to the main public funeral. A black hearse carried the casket through London's Whitehall district and then placed it inside the crypt of the St. Mary Undercroft, a place of worship built in the 13th Century. The service was private, but security was tight.
Custom Search
Social Studies
for Kids
copyright 2002-2014,
David White
---