LEGO Spill Blocks Highway Traffic
---
March 7, 2013
LEGO blocks provide hours of entertainment for children of all ages, but they don't go particularly well with cold, wet roadways. West Virginia drivers found this out the hard way recently when they found traffic reduced from two lanes to one lane on Interstate 79 near Clarksburg because of a huge number of LEGO blocks spilled along the road.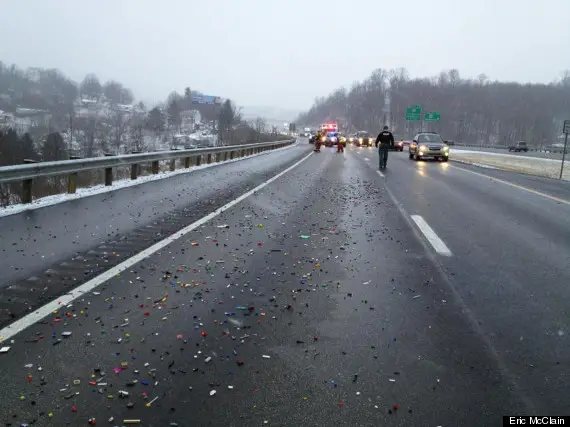 Local newspeople and online commentators found the whole thing funny, but it would not have been funny to the owner of those LEGO blocks, or his mother. Turns out the blocks belong to an 11-year-old boy, who had stuffed them in tote bags that were then strapped to the top of the mother's car. While mother and son were driving on the highway, the tote bag straps came lose in the cold and the rain and the LEGO blocks spilled out. The mother spent some time trying to recover the blocks but was soon thwarted by officers who wanted the lane cleared as quickly as possible.
The mother lamented that she couldn't afford to buy her son replacement LEGO blocks. The story made its way online and a group of people promised to send along their LEGO blocks to the mother so her son could rebuild his collection.
Custom Search
Social Studies
for Kids
copyright 2002-2014,
David White
---