Man Returns Library Book After 47 Years
---
January 8, 2006
At least he paid the bill.
A Michigan man recently returned a library book that he had checked out when he was in 9th Grade. That was in 1960.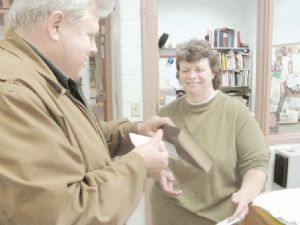 Robert Nuranen didn't even live in Hancock, Michigan, anymore and had to make a special trip to return the book and pay the fine, which came to $171.32. Nuranen checked out the book, Prince of Egypt by Dorothy Clarke Wilson, from the Hancock Public Library to help quench his thirst for knowledge about Egypt, which he eventually visited. In fact, he has become quite a traveler, visiting 54 other countries to date and all 50 states. He now lives in Los Angeles and is, in fact, a teacher, of seventh-grade social studies and language arts.
The book was due on June 2, 1960. Nuranen's mother misplaced it while she was cleaning the house, and the family found it a few times in the years since then but always managed to set it aside again and lose it again. Nuranen found it again last week and decided to return it. The library no longer had a record of the book, but library officials were only too happy to get the book back and were especially happy to cash Nuranen's check.
---
Custom Search

Social Studies
for Kids
copyright 2002-2014,
David White
---