It's the World's Largest Beaver Dam
---
May 6, 2010
What's 2,800 feet long, made of wood, and can be seen from space? The world's largest beaver dam, that's what. It's more than 40 years old, and it's in Canada.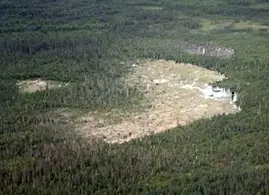 Something that large deserves to have its own name, but one hasn't been assigned yet. Still, scientists working in Wood Buffalo National Park, in northern Alberta, are impressed at the tenacity of the beavers who created the dam and the longevity of the structure itself. Scientists found large amounts of vegetation growing on the dam, suggesting that it wasn't created anytime recently. Some of the sticks are fresh, of course, but many are not and many others are covered with grass and other greenery.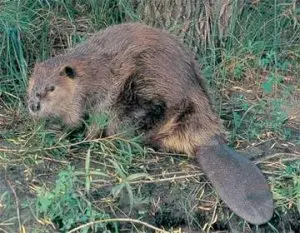 Beavers build dams to protect themselves against predators. The one in question could likely double as a fortress, filled as it is with not only naturally fallen trees but also transported sticks and branches dragged there by the beavers during several generations. The main predator, humans, is rarely seen in that part of the world, probably a main reason for the dam's sustained growth.

The average Canadian beaver dam is anywhere from to 10 to 100 meters long. Rare instances of 500-meter-long dams have been reported, scientists say. The newly discovered dam is 850 meters long.

Even more remarkable, scientists have identified two other large dams on two sides of the main dam, and the theory is that in a decade or so, the beavers will have created a megalopolis of wood, grass, and controlled pools of water.

The previous record for largest dam was one 652 meters (2139 feet) long, in Three Forks, Montana.

Social Studies
for Kids
copyright 2002-2014,
David White
---