---
Cuteness Reigns in Kitten Bowl III

On This Site
Share This Page

---
Follow This Site



February 7, 2016
It was the third installment of the Kitten Bowl, and the feline participants had a typically fierce and (to their fans) entertaining time of it. The promoters listed the cats as being players in the Feline Football League (FFL).
Organizers divided the feline participants into four teams: Boomer's Bobcats, Last Hope Lions, The Home & Family Felines, and The North Shore Bengals.
The Kitten Bowl began in 2014 as a drive to raise awareness for pet adoption. Helping launch the Kitten Bowl were the North Shore Animal League America and Last Hope Animal Rescue.
The commissioner, ensuring that all kittens played by the rules, was, as before, former National Football League MVP Boomer Esiason. The TV host for the Hallmark Channel broadcast was Animal League spokesperson Beth Stern. Famous broadcasters John Sterling (current announcer for baseball's New York Yankees) and Mary Carillo (longtime tennis commentator) provided play-by-play.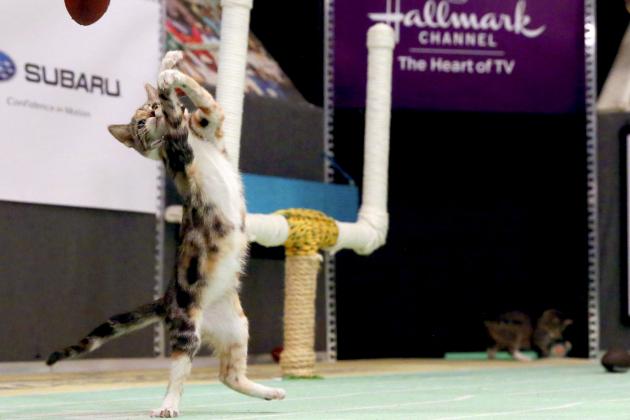 As with the Puppy Bowl, all participants in Kitten Bowl III found good homes after the game, with willing adopted (human) parents.
The game had to have a winner, and the winning team was Home and Family Felines, who defeated Boomer's Bobcats 46-41. Rob Gron-Cat-Ski scored a late touchdown and put the team over the top.