King Tut Revealed to the World
---
November 5, 2007
King Tut is now available for all to see.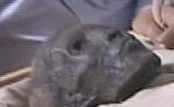 The famed boy king who died an early death and whose story and treasures have fired the imaginations of millions of people over the years is now on public display.

Zahi Hawass, Egypt's head of antiquities, was pleased to unveil the mummy, the work of more than two years of restoration. Scientists originally lifted the mummy out of its sarcophagus in order to do a CT scan, to try to help determine the cause of death. That scan, the first even done on a mummy, provided the scientists with evidence to support their theory that Tut didn't die from a blow to the head, as many had long believed.
The prevailing theory is now that he died of an infection resulting from a broken leg.

Unlike other mummies, Tut will remain in his tomb. Tourists who want to see the famous unshrouded face (and feet) will have to trek out to the Valley of the Kings, where Tut was first discovered in 1922.

Exactly what Tut looked like has long been a a source of speculation, especially given the sheer amount of gold found in his tomb, none more recognizable than the famous mask.
---

Social Studies
for Kids
copyright 2002-2014,
David White
---