Saudi Tower to Stretch a Kilometer into the Sky
---
April 21, 2014
Competition is heating up for top tower title in the Middle East, as Saudi Arabia has announced construction plans for a tower to stretch one kilometer tall.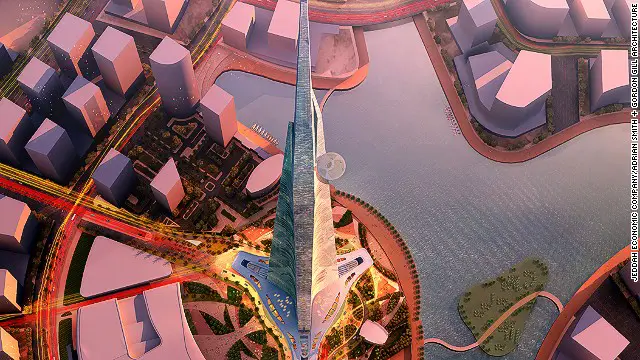 The Kingdom Tower, to be built in Jeddah, is to stretch a full 3,280 feet high. Work is to begin in late April 2014 and finish more than five years later.
The current tallest building in the world is the Burj Khalifa, in nearby Dubai. The Burj Khalifa is 2,716 feet, or 827 meters, tall.
The Kingdom Tower is scheduled to have 200 floors and a have 98-foot sky terrace on the 157th floor. That would be the highest terrace in the world. Also planned are a large number of offices, hotels, and luxury condos. Twelve escalators and more than 50 elevators will take residents and residents from the ground floor to their destinations, with a ride to the top floor taking a full 12 minutes. On the ground, a parking lot will have 3,190 spaces.
Construction will require foundations 200 feet deep and a total of 80,000 tons of steel and 5.7 million square feet of concrete. An initial price tag has been set at $1.23 billion.
The site for the Kingdom Tower overlooks the Red Sea, so construction will have to take into account the surrounding saltwater, which might affect the strength of the concrete used to build the foundations.
Custom Search
Social Studies
for Kids
copyright 2002-2014,
David White
---