---
'Godspeed, John Glenn': Famed Astronaut Dead at 95

On This Site
Share This Page

---
Follow This Site



December 8, 2016
John Glenn–famous astronaut, decorated military veteran, fearless test pilot, long-serving Congressman, and all-around American hero–has died. He was 95.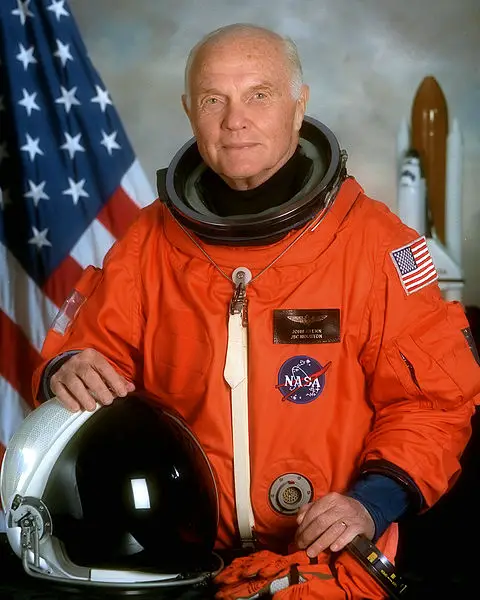 Glenn is perhaps most well-known for becoming the first American to orbit the Earth. He did so as the sole occupant of the Friendship 7 spacecraft on Feb. 20, 1962, spending 4 hours, 55 minutes, and 23 seconds to complete three orbits. His first words in space were these: "Zero G, and I feel fine."
The most famous words associated with Glenn's flight were said not Glenn but by fellow astronaut Scott Carpenter, who was Glenn's backup for the orbit mission. Carpenter uttered the words "Godspeed, John Glenn," just as Glenn's capsule, aboard a Mercury Atlas rocket, roared into the sky.
As a career bookend, Glenn also became the oldest person to go into space, serving as a payload specialist aboard a 1998 mission of Space Shuttle Discovery. He was 77. As a tribute to Glenn, NASA brought back Carpenter, then 73, to say his wish to his old buddy Glenn one more time.
John Glenn was born in the Ohio city of Cambridge and grew up in the much smaller town of New Concord, attending the local postsecondary school, Muskingum College, where he met Anna Castor, whom he married in 1943.
Obsessed with airiplanes from a young age, Glenn was 20 when Japan attacked Pearl Harbor, and he left college (and a plan to become a medical doctor) to enlist in the U.S. Army Air Corps. His name did not come up on a call for duty for a few months, and he then enlisted in the Navy, as an aviation cadet. He did his training at the University of Iowa and then at Olathe, Kan., where he completed his first solo flight.
Glenn transferred once more, to the Marines, and then completed his aviation training. He flew 59 combat missions in the South Pacific, including combat over the Marshall Islands. He achieved the rank of Captain just before World War II ended.
After a postwar stint as a Navy flight instructor in Corpus Christi, Texas, Glenn went to war again, this time in Korea. He flew 90 combat missions during the Korean War. He routinely came under heavy fire. On one occasion, he returned with his plane intact, despite having more than 200 bullet holes in it. On more than one occasion, in the plane with him was Hall of Fame baseball player Ted Williams.
Glenn continued his training at the Naval Test Pilot School and then was a test pilot, testing weaponry while flying at high altitudes. He completed the first supersonic transcontinental flight on July 16, 1957, flying from California to New York in 3 hours, 23 minutes, 8 seconds. He also set a flying speed record, reaching 726 miles per hour.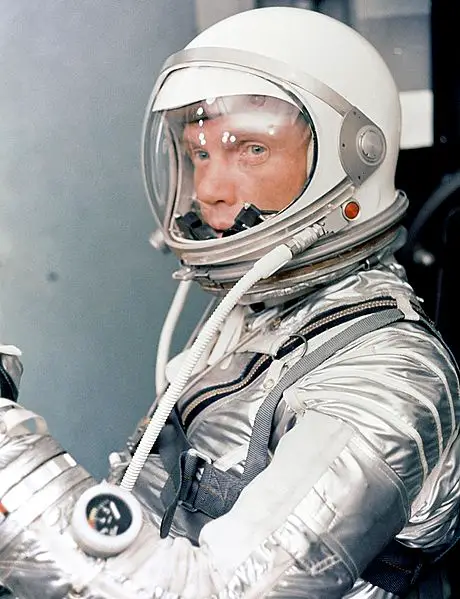 Glenn was one of 508 pilots who made the grade for NASA's Mercury spaceflight program. The other members of the Mercury Seven were Carpenter, Gordon Cooper, Gus Grissom, Wally Schirra, Alan Shepard, and Deke Slayton.
After that famous flight around Earth, Glenn had a fright on re-entry. His onboard systems malfunctioned, and he had to take manual control to help prevent the capsule's heat shield from peeling off; if that had happened, he and the capsule would have been incinerated.
All was good, however, and he splashed down 800 miles southeast of Bermuda, in the Atlantic Ocean. The warning light that alarmed mission control turned out to be faulty.
Glenn's Earth orbit made him a national hero and the recipient of a ticker-tape parade in New York City. He addressed a joint session of Congress and met President John F. Kennedy.
In 1964, Glenn left NASA to run for the U.S. Senate. An injury kept him out of the race, however. He retired from the Marines in 1965 and went to work for Royal Crown Cola.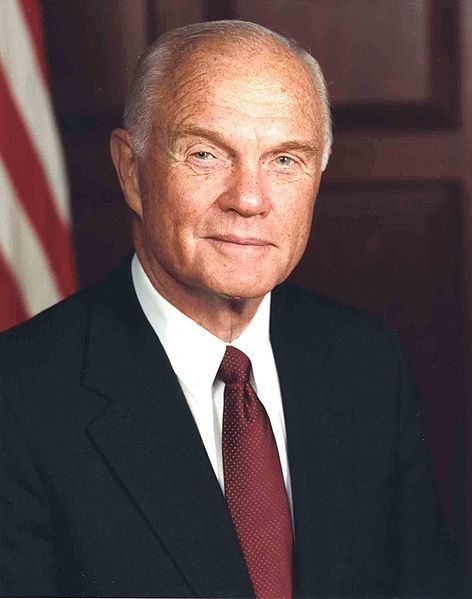 Glenn ran again for the Senate, in 1970, as a member of the Democratic Party. He lost the primary that year to Howard Metzenbaum but finished first in the next primary and then won the Senate seat by defeating Cleveland Mayor Ralph Perk, a Republican, in the general election. Glenn won re-election four times, retiring in 1998. He was Ohio's longest-serving Senator. He also ran for President in 1984, losing out on the Democratic Party nomination to Walter Mondale.
In 1998, the year he retired from the Senate, he returned to space, aboard Space Shuttle Discovery, for a nine-day mission. He was the subject of some medical experiments sponsored by the National Institute on Aging.
Glenn was the recipient of many medals and awards in his lifetime. President Kennedy gave him a Distinguished Service Medal. The U.S. military awarded him two Distinguished Flying Crosses.
In his private life, Glenn lent his name to various installations, buildings, and programs. He was one of the founders of Ohio State University's John Glenn Institute for Public Service; it is now the John Glenn College of Public Affairs. The airport in Ohio's capital is now named the John Glenn Columbus International Airport. The Cleveland NASA field center is named the John H. Glenn Research Center. The high school he attended is now named for him.
He continued to be involved with the U.S. space program. On the 50th anniversary of his initial orbits, Feb. 20, 2012, he participated in a live chat with the crew of the International Space Station. He was also on hand to escort Space Shuttle Discovery from NASA active duty to retirement, at the Smithsonian Institution's Seven F. Udvar-Hazy center.
Glenn's wife, whom he called Annie, survives, as do their two children, Carolyn and John, and two grandsons.