Japan Launches Floating Wind Turbine
---
November 12, 2013
Japan has turned to wind power to help meet its extensive electricity needs.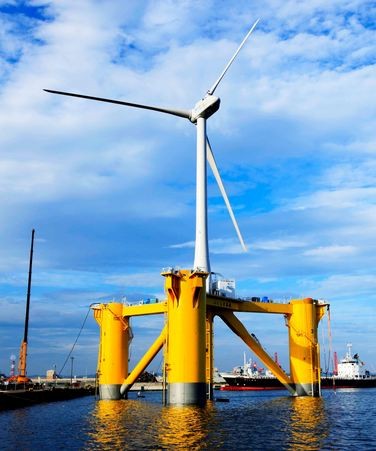 The country launched a wind farm 12 miles off the coast of Fukushima, site of the Dai-Ichi Nuclear Power Plant, crippled by the 2011 earthquake and resulting tsunami. The first of a projected 143 turbines began generating power to a grid beleaguered by disasters and outages since the 9.0-magnitude quake. Massive chains stretching hundreds of feet below the surface connect the turbine to the ocean floor. An undersea cable links the turbine to a floating power substation.
Government officials touted the viability of offshore turbines, which were far enough away from shore to be unbearable in operation. (A complaint often lodged against wind turbines is that they are very loud when running.)
The country's entire nuclear plant system, consisting of 50 reactors, is offline for safety checks, the result of stiffer regulations drawn up in response to the twin disasters. Some of those plants could soon be restarted; but in the meantime, Japan has had to depend more and more on imported power, from sources like oil and natural gas, in stark contrast to a more recent drive toward more renewable energy sources.
Japan hopes to sell its pioneering technology elsewhere around the world.
Social Studies
for Kids
copyright 2002-2014,
David White
---