Familiar Face to Return as Japanese Leader
---
December 17, 2012
Shinzo Abe will again be Prime Minister of Japan.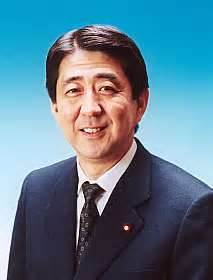 Abe's Liberal Democratic Party won an overwhelming victory in Japan's national elections, just three years after being rejected in favor of the Democratic Party of Japan. Yoshihiko Noda, the current prime minister and leader of the DPJ, had proposed an increase in sales taxes to help offset a national debt that weighs in at twice the size of the national economy. Voters roundly rejected the tax increase, Noda, and his party, returning to power the party (the LDP) that had governed Japan from the end of World War II until 2009.
Forecasts estimated that the LDP would win 291 of the 480-seat lower house of Parliament and that the New Komeito, an LDP ally, would take 29 seats. Such a coalition would have a two-thirds "super majority" that could overrule the upper house, where they do not have a majority. By contrast, the DPJ was forecast to win just 56 seats, lower by four-fifths than the number of seats it won in 2009. A group of new political parties found support in voters who were disenchanted with both major parties. One new party, the Japan Restoration Party, scored 52 seats.
Turnout was estimated at 59 percent, which would among the lowest turnouts since the end of World War II.
Abe, the country's youngest prime minister, resigned for health reasons in 2007, just a year in office. He promised to take a hard line with China in a dispute over a set of uninhabited yet resource-rich islands in the East China Sea and to unveil proposals for public works spending to boost the economy, which has sagged heavily in recent years, especially since the devastation of the Sendai earthquake and tsunami. Noda, a former finance minister, had replaced Naoto Kan as prime minister after the twin disasters.
Abe, whose grandfather Nobusuke Kishi was prime minister, will become the country's seventh leader in six years when Parliament approves the coalition on December 26.

Social Studies
for Kids
copyright 2002-2014,
David White
---