---
Japanese Opposition Party Names First Female Leader

On This Site
Share This Page

---
Follow This Site



September 18, 2016
For the first time ever, a woman leads the Democratic Party of Japan, now the country's main opposition political party. Renho, a former model and television anchor, will now try to lead her party back into power.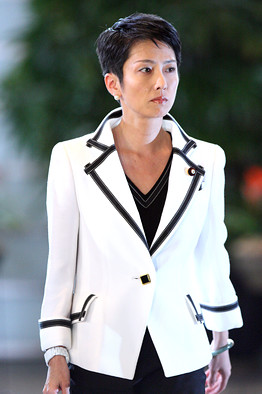 Renho, who goes by just the one name, became well-known in the 1980s as a model and was one of the main TV newscasters reporting from Kobe in 1995, after the massive earthquake there. She won election to Parliament in 2004 and was most recently the party's deputy leader.
Renho, 48, pursued a law career before becoming a model and then a television commentator and newscaster. She is married to a fellow journalist, and together they have two children. Renho's father is from Taiwan; her mother is from Japan.
The Democratic Party of Japan (DPJ) was last the ruling party in 2009–2012. During that time, Renho had a few ministerial roles, including stints as Minister for Government Revitalization and Minister of State for Consumer Affairs and Food Safety.
Renho is the first woman to head the DPJ and the first person with mixed ethnic heritage to lead a Japanese political party.
In government now is the Liberal Democratic Party, headed by President Shinzo Abe. Abe and his party, the Liberal Democratic Party (LDP), won election in 2012, after the Fukushima disaster.
Elections in July to replace half the members of Parliament resulted in an even stronger position for the LDP, which controls both houses (the Diet and the House of Councillors), and DPJ leader Katsuya Okada resigned soon after that.